Skype

6.10.0.606

for Android

I do not know why the developers skipped the 6.9 version of

Skype for Android

, but today in the Play Store has been released 6.10.0.606 version. However, Skype 6.10.0.606 for Android is not available to all users (apparently there is tested the new functionality of the application). Hopefully, we will soon know more details.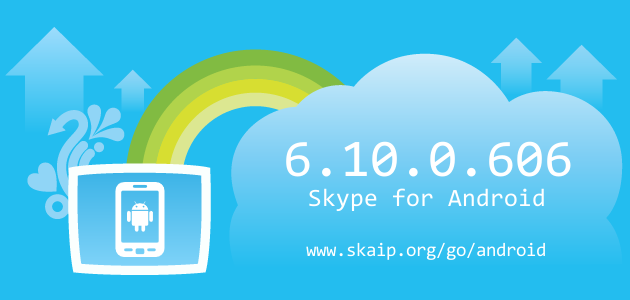 File size:
34.4 MB
Operating system:
Android
Skype version:
6.10.0.606
Release date:
Total downloads:
73
Changelog
The following table contains the list of known changes in version Skype 6.10.0.606 for Android. This will help you to find out what's new in Skype for Android, which errors have been fixed, what work did developers, and a lot of other interesting things.
Strings
abc_capital_off:
=
Strings
abc_capital_on:
=
Strings
action_gvc_multiview:
=
Strings
label_not_on_call:
=
Strings
label_on_call:
=
Strings
message_sign_in_no_user_found:
= 'We didn't recognize your Skype Name, email address or phone number'
=
Strings
action_add_phone_contacts:
=
Strings
action_filter_agents:
=
Strings
action_save_video_message:
=
Strings
action_snooze_notification:
=
Strings
action_stop_snooze_notification:
=
Strings
call_participant_connecting:
=
Strings
call_participant_dropped:
=
Strings
character_counter_pattern:
=
Strings
dialog_stop_snoozing:
=
Strings
heart_people_loved_this:
=
Strings
heart_you_loved_this:
=
Strings
key_notification_snooze_duration:
=
Strings
key_notification_snooze_status:
=
Strings
label_hearts_loved_by:
=
Strings
label_no_available_agents:
=
Strings
label_outlook_not_installed_title:
=
Strings
market_details_url_fireos:
=
Strings
market_search_url_fireos:
=
Strings
market_url_fireos:
=
Strings
message_adding_agent:
=
Strings
message_agent_added_but_not_synched:
=
Strings
message_agent_not_added:
=
Strings
message_saving:
=
Strings
message_unable_to_save_vim_title:
=
Strings
message_vim_not_saved:
=
Strings
message_vim_saved:
=
Strings
sdk_version_name:
= 2.1.0328.0817
=
Strings
skype_wifi_store_url_fireos:
=
Strings
text_add_agents:
=
Strings
text_outlook_not_installed_description:
=
Strings
text_outlook_not_installed_go_to_store:
=
Strings
text_restrictions_apply_fireos:
=
Strings
whitelist_dev_version_url_fireos:
=
Strings
whitelist_version_url_fireos:
=
Strings
message_sign_in_no_user_found_no_phone:
= 'We didn't recognize your Skype Name or email address'
Strings
skype_android_ws_url:
= http://androidprod-ws.cloudapp.net/
Of course, we could miss something, but we are happy for any help in drawing up the complete list of changes, so if you know any details about this version, or have noticed a mistake leave a comment and we will complement or correct the information.