Skype

6.10.60.104

for Windows

No comments

788 downloads

The last version of

Skype for Windows

greets us with a new login form. To unauthorized users it will offer the choice of the two buttons instead of login and password fields: "Skype name" and "Microsoft account". That means Microsoft account is not inferior to regular Skype account anymore.

The Skype 6.10.60.104 for Windows also contains upgraded video call library. To get maximum benefit, before making a video call both users should update Skype. Due to the new library the users of most outdated Skype versions will not able to make video calls at all. This applies to messaging in conferences too: while calling the chat will just disabled.

In addition, the developers have reported that they worked hard to improve the Skype performance and provide general fixes. Such complex applications as Skype just can't exist without any errors, so the fact that its count get lower is good news.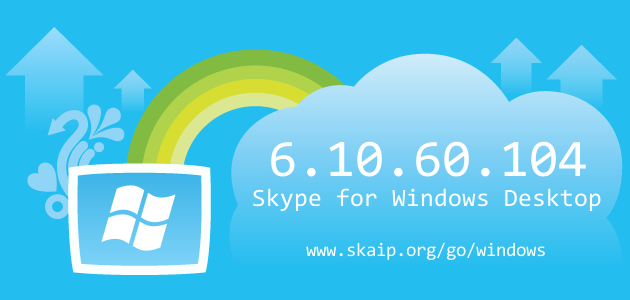 File size:
33.4 MB
Operating system:
Windows
Skype version:
6.10.60.104
Release date:
Total downloads:
788
Changelog
The following table contains the list of known changes in version Skype 6.10.60.104 for Windows. This will help you to find out what's new in Skype for Windows, which errors have been fixed, what work did developers, and a lot of other interesting things.
New
The new login form
Changed
Upgraded video call library
Fixed
General improvements and fixes
Strings
sBUDDYMENU_SENDFILE:
= Send File...
=
Strings
sPREM_VIDEO_UPRGADE:
= Some people on the call need to get Skype 5.0 or higher to use group video.
=
Strings
sSKYPEWIFI_PAYMENT_HINT_VAT:
= VAT (value added taxes) is applicable to residents of the EU and calculated at the Luxembourg VAT rate. If you live outside the EU, you will not be charged the VAT.
=
Strings
sMYINFO_GET_PREMIUM:
= Upgrade and unlock more features<br/>• Unlimited calls<br/>• Group video calls<br/><a href='%s'>Get Premium</a>
=
Strings
sMSNP24_UPGRADE_MESSAGE_IN_P2P:
=
Strings
sMSNP24_UPGRADE_MESSAGE_IN_P2P_DOGFOOD:
=
Strings
sMSNP24_UPGRADE_MESSAGE_IN_P2P_FOR_MSNP_USER_INPUT:
=
Strings
sMSNP24_UPGRADE_MESSAGE_IN_P2P_FOR_MSNP_USER_CHAT:
=
Strings
sMSNP24_UPGRADE_MESSAGE_IN_P2P_FOR_MSNP_USER_CHATEX:
=
Strings
sMSNP24_UPGRADE_MESSAGE_IN_SERVER_BASED:
=
Strings
sMSNP24_UPGRADE_MESSAGE_IN_SERVER_BASEDEX:
=
Strings
sACC_MSNP24_UPGRADE_MESSAGE_IN_P2P_FOR_MSNP_USER_CHAT:
=
Strings
sACC_MSNP24_UPGRADE_MESSAGE_IN_SERVER_BASED:
=
Strings
sCHAT_LEGACY_MEMBER_ADDED_SINGLE:
=
Strings
sCHAT_LEGACY_MEMBER_ADDED_SINGLE_DOGFOOD:
=
Strings
sCHAT_LEGACY_MEMBER_ADDED_PLURAL:
=
Strings
sCHAT_LEGACY_MEMBER_ADDED_PLURAL_DOGFOOD:
=
Strings
sCHAT_LEGACY_MEMBER_UPGRADED:
=
Strings
sACC_GSW_SPEAKER_HELP_BUTTON:
=
Strings
sACC_GSW_MIC_HELP_BUTTON:
=
Strings
sACC_GSW_SELECT_WEBCAM:
=
Strings
sVP8LEGACY_CLIENT_GVC_CAPABLE:
=
Strings
sVP8LEGACY_CLIENT_GVC_NOT_CAPABLE:
=
Strings
sVP8LEGACY_SEND_UPGRADE_DESC:
=
Strings
sVP8LEGACY_SEND_UPGRADE_DESC_SINGLE:
=
Strings
sVP8LEGACY_SEND_UPGRADE_SEND:
=
Strings
sVP8LEGACY_SEND_UPGRADE_CANCEL:
=
Strings
sVP8LEGACY_UPGRADE_MESSAGE:
=
Strings
sVP8LEGACY_UPGRADE_SHOW_MESSAGE_AGAIN:
=
Strings
sLIVE_TOGGLE_ORIGINAL_VIDEO_SIZE:
=
Strings
sVP8LEGACY_UPGRADE_LEGACY_HOST:
=
Of course, we could miss something, but we are happy for any help in drawing up the complete list of changes, so if you know any details about this version, or have noticed a mistake leave a comment and we will complement or correct the information.