Skype

6.11.0.518

for Android

In Play Market has been updated free application

Skype for Android

, which, according to the list of changes, can save in your phone gallery recorded or received video messages. Also, from the gallery of the phone you can now share your photos in a group chat.

Another change in Skype 6.11.0.518 for Android, concerns the ability to manage chats. Now, on the Recents events tab, you can display the toolbar long tap on the contact or chat. This toolbar will allow you to delete, mark as read, or disable notifications.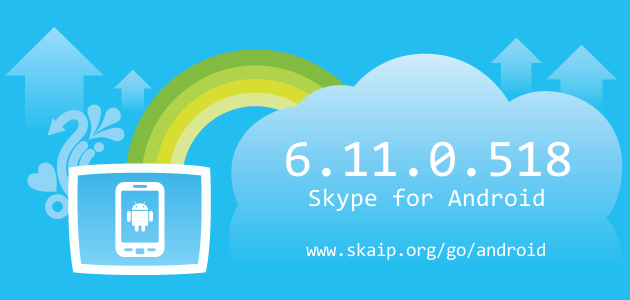 File size:
34.6 MB
Operating system:
Android
Skype version:
6.11.0.518
Release date:
Total downloads:
90
Changelog
The following table contains the list of known changes in version Skype 6.11.0.518 for Android. This will help you to find out what's new in Skype for Android, which errors have been fixed, what work did developers, and a lot of other interesting things.
New
Save video messages to phone's photo gallery
New
Send photos from the gallery in a group chat
Tuned
Delete, mark as read, or disable notifications
Strings
acc_action_playback_moji:
=
Strings
acc_action_share_moji:
=
Strings
acc_add_emoticon_or_moji:
=
Strings
acc_cfs_label_sent_file:
=
Strings
acc_selected_items:
=
Strings
acc_show_keyboard:
=
Strings
action_mark_selected_read:
=
Strings
action_mute_selected_chats:
=
Strings
action_retry:
=
Strings
action_schedule_a_meeting:
= Schedule a meeting
=
Strings
action_unmute_selected_chats:
=
Strings
banner_snooze_notification:
=
Strings
banner_snooze_notification_without_cta:
=
Strings
button_snooze:
=
Strings
dialog_button_set:
=
Strings
dialog_snooze_everything:
=
Strings
dialog_snooze_message:
=
Strings
label_allow_direct_connections:
=
Strings
label_allow_direct_connections_desc:
=
Strings
label_delete_conversation:
=
Strings
label_hearts_loved_your_file:
=
Strings
label_hearts_loved_your_location:
=
Strings
label_hearts_loved_your_message:
=
Strings
label_hearts_loved_your_message_details:
=
Strings
label_hearts_loved_your_moji:
=
Strings
label_hearts_loved_your_photo:
=
Strings
label_hearts_loved_your_video_message:
=
Strings
label_hide_conversation:
=
Strings
message_allow_direct_connections_disabled:
=
Strings
message_allow_direct_connections_enabled:
=
Strings
message_cfs_download_failed:
=
Strings
message_cfs_download_failed_expired:
=
Strings
message_cfs_download_failed_malware:
=
Strings
message_cfs_download_failed_restart:
=
Strings
message_cfs_download_failed_unsafe:
=
Strings
message_cfs_download_no_internet:
=
Strings
message_cfs_upload_failed:
=
Strings
message_cfs_upload_failed_malware:
=
Strings
message_cfs_upload_failed_no_internet:
=
Strings
message_cfs_upload_failed_too_big:
=
Strings
message_cfs_upload_scanning:
=
Strings
message_cfs_upload_sent:
=
Strings
message_cfs_upload_unsafe:
=
Strings
message_cfs_upload_waiting:
=
Strings
message_problem_receiving_file:
=
Strings
message_problem_receiving_no_internet:
=
Strings
message_problem_sending_no_internet:
=
Strings
message_problem_sending_video:
=
Strings
text_app_not_installed_description:
=
Strings
text_app_not_installed_go_to_store:
=
Strings
text_app_title_excel:
=
Strings
text_app_title_power_point:
=
Strings
text_app_title_word:
=
Strings
text_cfs_learn_more_expired:
=
Strings
text_cfs_learn_more_info:
=
Strings
text_video_message_not_available:
=
Strings
key_allow_direct_connections:
=
Strings
action_leave_conversation:
= Leave chat
Strings
action_remove_from_history_message:
= Are you sure you want to remove this chat from recent?
Strings
header_remove_from_history:
= Remove from recent?
Strings
heart_people_loved_this:
= %s loved this
Strings
heart_you_loved_this:
= You loved this
Strings
label_hearts_loved_by:
= Loved by %d
Strings
message_retry_photo_sharing:
= Retry
Strings
text_outlook_not_installed_go_to_store:
= Get Outlook
Of course, we could miss something, but we are happy for any help in drawing up the complete list of changes, so if you know any details about this version, or have noticed a mistake leave a comment and we will complement or correct the information.