Skype

6.14.0.665

for Android

Without any announcements and details about the changes, has been released a new version 6.14.0.665 of the free application

Skype for Android

.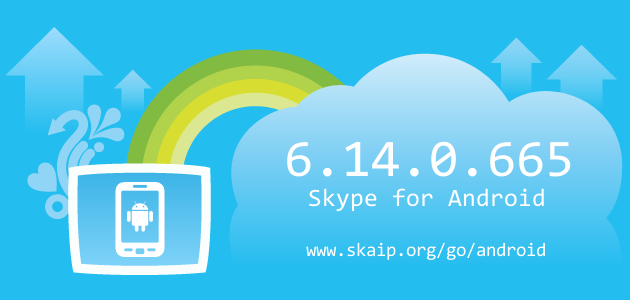 File size:
34.9 MB
Operating system:
Android
Skype version:
6.14.0.665
Release date:
Total downloads:
93
Changelog
The following table contains the list of known changes in version Skype 6.14.0.665 for Android. This will help you to find out what's new in Skype for Android, which errors have been fixed, what work did developers, and a lot of other interesting things.
Strings
acc_chat_invitations:
=
Strings
label_chat_invitations:
=
Strings
label_shared_a_gif:
= %1$s shared an animated gif
=
Strings
label_shared_a_link:
= %1$s shared a website
=
Strings
label_shared_a_tweet:
= %1$s shared a tweet
=
Strings
label_shared_a_video:
= %1$s shared a web video
=
Strings
label_shared_an_image:
= %1$s shared a web image
=
Strings
label_you_shared_gif:
=
Strings
label_you_shared_image:
=
Strings
label_you_shared_link:
=
Strings
label_you_shared_tweet:
=
Strings
label_you_shared_video:
=
Strings
message_chat_invitations_enabled:
=
Strings
message_chat_participant_invitations_disabled:
=
Strings
message_invite_subject:
= New Skype Conversation
=
Strings
message_joining_conversation:
=
Strings
message_option_to_enable_chat_invitations:
=
Strings
message_start_new_group_call:
=
Strings
msg_invite_boilerplate:
= Continue the conversation with Skype: %1$s
=
Strings
text_app_not_found_for:
=
Strings
text_start_new_group_call:
=
Strings
action_share:
=
Strings
key_vim_for_groups_accessed:
=
Strings
label_chat_invitations_disabled:
=
Strings
label_chat_invitations_enabled:
=
Strings
message_unable_to_share_conversation:
=
Strings
msg_invite_join_group_conversation_subject:
=
Strings
label_sync_groups_in_background:
= Sync group messages in the background
Strings
label_sync_groups_in_background_summary:
= Enabling may affect battery life
Strings
key_sync_groups_in_background:
= syncGroupsInBackgroundNotification
Strings
key_vim_filters_accessed:
= keyVimFiltersAccessed
Of course, we could miss something, but we are happy for any help in drawing up the complete list of changes, so if you know any details about this version, or have noticed a mistake leave a comment and we will complement or correct the information.