Skype

6.16.0.1919

for Android

No comments

176 downloads

The new version of the free application

Skype for Android

is available for download from the Play Store. However, nothing is known about Skype 6.16.0.1919 for Android — the official site said only about "general fixes".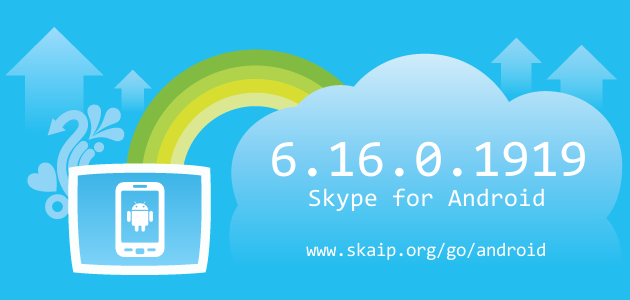 File size:
35.8 MB
Operating system:
Android
Skype version:
6.16.0.1919
Release date:
Total downloads:
176
Changelog
The following table contains the list of known changes in version Skype 6.16.0.1919 for Android. This will help you to find out what's new in Skype for Android, which errors have been fixed, what work did developers, and a lot of other interesting things.
Fixed
General fixes
Strings
action_search_picker_emoticons_only:
=
Strings
link_ngc_upgrade_hint:
=
Strings
text_list_and_clause:
=
Strings
text_list_comma_delimited_clause:
=
Strings
hockeyapp_crash_dialog_app_name_fallback:
=
Strings
hockeyapp_crash_dialog_message:
=
Strings
hockeyapp_crash_dialog_negative_button:
=
Strings
hockeyapp_crash_dialog_neutral_button:
=
Strings
hockeyapp_crash_dialog_positive_button:
=
Strings
hockeyapp_crash_dialog_title:
=
Strings
hockeyapp_dialog_error_message:
=
Strings
hockeyapp_dialog_error_title:
=
Strings
hockeyapp_dialog_negative_button:
=
Strings
hockeyapp_dialog_positive_button:
=
Strings
hockeyapp_download_failed_dialog_message:
=
Strings
hockeyapp_download_failed_dialog_negative_button:
=
Strings
hockeyapp_download_failed_dialog_positive_button:
=
Strings
hockeyapp_download_failed_dialog_title:
=
Strings
hockeyapp_error_no_network_message:
=
Strings
hockeyapp_expiry_info_text:
=
Strings
hockeyapp_expiry_info_title:
=
Strings
hockeyapp_feedback_attach_file:
=
Strings
hockeyapp_feedback_attach_picture:
=
Strings
hockeyapp_feedback_attachment_button_text:
=
Strings
hockeyapp_feedback_attachment_error:
=
Strings
hockeyapp_feedback_attachment_loading:
=
Strings
hockeyapp_feedback_email_hint:
=
Strings
hockeyapp_feedback_failed_text:
=
Strings
hockeyapp_feedback_failed_title:
=
Strings
hockeyapp_feedback_generic_error:
=
Strings
hockeyapp_feedback_last_updated_text:
=
Strings
hockeyapp_feedback_max_attachments_allowed:
=
Strings
hockeyapp_feedback_message_hint:
=
Strings
hockeyapp_feedback_name_hint:
=
Strings
hockeyapp_feedback_refresh_button_text:
=
Strings
hockeyapp_feedback_response_button_text:
=
Strings
hockeyapp_feedback_select_file:
=
Strings
hockeyapp_feedback_select_picture:
=
Strings
hockeyapp_feedback_send_button_text:
=
Strings
hockeyapp_feedback_send_generic_error:
=
Strings
hockeyapp_feedback_send_network_error:
=
Strings
hockeyapp_feedback_subject_hint:
=
Strings
hockeyapp_feedback_title:
=
Strings
hockeyapp_feedback_validate_email_empty:
=
Strings
hockeyapp_feedback_validate_email_error:
=
Strings
hockeyapp_feedback_validate_name_error:
=
Strings
hockeyapp_feedback_validate_subject_error:
=
Strings
hockeyapp_feedback_validate_text_error:
=
Strings
hockeyapp_login_email_hint:
=
Strings
hockeyapp_login_headline_text:
=
Strings
hockeyapp_login_login_button_text:
=
Strings
hockeyapp_login_missing_credentials_toast:
=
Strings
hockeyapp_login_password_hint:
=
Strings
hockeyapp_paint_dialog_message:
=
Strings
hockeyapp_paint_dialog_negative_button:
=
Strings
hockeyapp_paint_dialog_neutral_button:
=
Strings
hockeyapp_paint_dialog_positive_button:
=
Strings
hockeyapp_paint_indicator_toast:
=
Strings
hockeyapp_paint_menu_clear:
=
Strings
hockeyapp_paint_menu_save:
=
Strings
hockeyapp_paint_menu_undo:
=
Strings
hockeyapp_permission_dialog_negative_button:
=
Strings
hockeyapp_permission_dialog_positive_button:
=
Strings
hockeyapp_permission_update_message:
=
Strings
hockeyapp_permission_update_title:
=
Strings
hockeyapp_update_button:
=
Strings
hockeyapp_update_dialog_message:
=
Strings
hockeyapp_update_dialog_negative_button:
=
Strings
hockeyapp_update_dialog_positive_button:
=
Strings
hockeyapp_update_dialog_title:
=
Strings
hockeyapp_update_mandatory_toast:
=
Strings
key_enable_materialTablet:
=
Strings
label_chat_invitations:
= Chat invitations
Strings
accessibility_update_button:
= Update App
Strings
crash_dialog_message:
= The app found information about previous crashes. Would you like to send this data to the developer?
Strings
crash_dialog_negative_button:
= Dismiss
Strings
crash_dialog_positive_button:
= Send
Strings
crash_dialog_title:
= Crash Data
Strings
download_failed_dialog_message:
= The update could not be downloaded. Would you like to try again?
Strings
download_failed_dialog_negative_button:
= Cancel
Strings
download_failed_dialog_positive_button:
= Retry
Strings
download_failed_dialog_title:
= Download Failed
Strings
update_dialog_message:
= Show information about the new update?
Strings
update_dialog_negative_button:
= Dismiss
Strings
update_dialog_positive_button:
= Show
Strings
update_dialog_title:
= Update Available
Strings
update_mandatory_toast:
= Please install the latest version to continue to use this app.
Of course, we could miss something, but we are happy for any help in drawing up the complete list of changes, so if you know any details about this version, or have noticed a mistake leave a comment and we will complement or correct the information.