Skype

6.19.0.460

for Android

Skype for Android

has been updated to new version 6.19.0.460, which fixes at least two bugs. The first one is missing the long press option for shared location. The second — the application may crash and cannot parse correctly the date format if the Bulgarian has been set as the default language.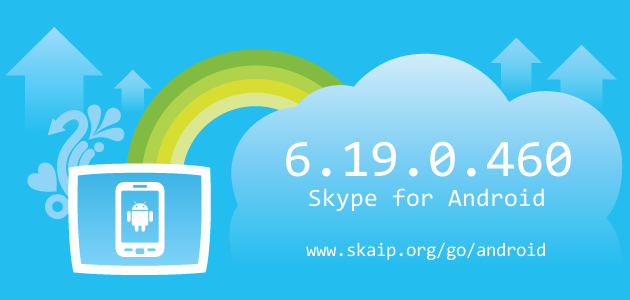 File size:
36.5 MB
Operating system:
Android
Skype version:
6.19.0.460
Release date:
Total downloads:
41
Changelog
The following table contains the list of known changes in version Skype 6.19.0.460 for Android. This will help you to find out what's new in Skype for Android, which errors have been fixed, what work did developers, and a lot of other interesting things.
Fixed
Long press option for shared location was missing
Fixed
Fix errors with Bulgarian language
Strings
acc_gvc_switch_to_focused:
=
Strings
acc_gvc_switch_to_grid:
=
Strings
acc_hearts_like_this:
=
Strings
acc_hearts_unlike_this:
=
Strings
acc_one_person_likes_this:
=
Strings
acc_options_call_button:
=
Strings
acc_send_file:
=
Strings
acc_send_location:
=
Strings
acc_send_photo:
=
Strings
acc_take_photo:
=
Strings
acc_x_people_like_this:
=
Strings
action_select_app:
=
Strings
action_show_outlook_upsell_dialog:
=
Strings
action_translator_options:
=
Strings
header_office_integration:
=
Strings
label_add_call_button:
=
Strings
label_dialpad_call_button:
=
Strings
label_more_call_button:
=
Strings
label_mute_call_button:
=
Strings
label_office_integration_upsell:
=
Strings
label_save_my_details:
=
Strings
label_save_my_details_summary:
=
Strings
label_speaker_call_button:
=
Strings
label_video_call_button:
=
Strings
message_incoming_skype_call_notification:
=
Strings
text_valentines_card_promo_1:
=
Strings
text_valentines_card_promo_2:
=
Strings
key_category_office_integration:
=
Strings
key_office_integration_upsell:
=
Strings
label_audio_routing_call_button:
=
Strings
action_gvc_multiview:
= Group view
Strings
label_remember_me:
= Remember me
Strings
text_happy_valentines_day:
= 'Happy Valentine's Day'
Of course, we could miss something, but we are happy for any help in drawing up the complete list of changes, so if you know any details about this version, or have noticed a mistake leave a comment and we will complement or correct the information.