Skype

6.20.0.104

for Windows

No comments

2 971 downloads

Today has been released the new version of

Skype for Windows

, which can offer you the synchronization of favorites list. It means you'll have the same list on any device or client you use.

What about the other changes, there were held the work on reducing Skype's memory and program stabilization. There were also fixed other errors about which developers said nothing, just as usual. They have only said that it will help reduce the amount of crashes.

I also have to say that different versions of Skype 6.20 (provided by partners) have got completely new interface which will be available to all Skype users in the near future.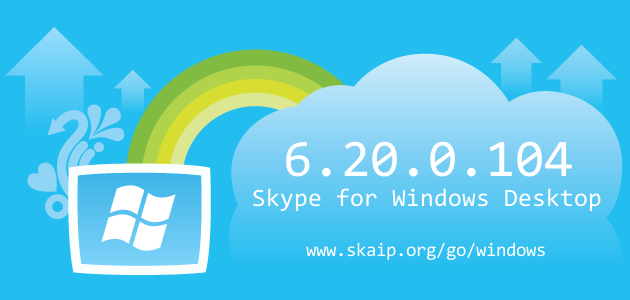 File size:
34.3 MB
Operating system:
Windows
Skype version:
6.20.0.104
Release date:
Total downloads:
2 971
Changelog
The following table contains the list of known changes in version Skype 6.20.0.104 for Windows. This will help you to find out what's new in Skype for Windows, which errors have been fixed, what work did developers, and a lot of other interesting things.
New
Favorites list synchronization.
Improved
Engineering improvements which can reduce amount of used memory by Skype and avoid crashes
Strings
sF_CHAT_INFO_LB_ADMIN:
=
Strings
sZAPBUTTON_ADDTOGROUP:
=
Strings
sZAPBUTTON_ADDTOCONFERENCEMULTIPLE:
=
Strings
sZAPBUTTON_ADDTOCONFERENCERINGING:
=
Strings
sZAPBUTTON_CALLMULTIPLE:
=
Strings
sZAPBUTTON_COPYCONVERSATIONLINK:
=
Strings
sZAPBUTTON_DECLINECALL:
=
Strings
sZAPBUTTON_ADDPEOPLE:
=
Strings
sZAPBUTTON_LEAVECONVERSATION:
=
Strings
sZAPBUTTON_MERGECALLS:
=
Strings
sZAPBUTTON_SENDIMAGE:
=
Strings
sZAPBUTTON_SENDCONTACTS:
=
Strings
sZAPBUTTON_ENTRYTOOLBAREXPAND:
=
Strings
sZAPBUTTON_ENTRYTOOLBARCOLLAPSE:
=
Strings
sZAPBUTTON_PLUS:
=
Strings
sZAPBUTTON_POPOUTPLAY:
=
Strings
sZAPBUTTON_POPOUTPAUSE:
=
Strings
sZAPBUTTON_POPOUTSTOP:
=
Strings
sZAPBUTTON_POPOUTRELOAD:
=
Strings
sZAPBUTTON_CT_MESSAGEUNREAD:
=
Strings
sZAPBUTTON_SENDQUALITYFEEDBACK:
=
Strings
sZAPBUTTON_CLOSEWINDOW:
=
Strings
sZAPBUTTON_CM_RESUME:
=
Strings
sZAPBUTTON_REMOVEFROMFAVOURITESBTN:
=
Strings
sZAPBUTTON_ADDTOFAVOURITESBTN:
=
Strings
sZAPBUTTON_SEARCHSKYPE:
=
Strings
sLIVECONVLIST_CALL_FINISHED:
= Finished
=
Strings
sSKYACCESS_LOGIN_FAILURE_MSG:
= Failed to log in. Check your Skype Name or password
=
Strings
sREMOVE_GROUP_INFO2:
= Contacts in this list will not be deleted. You can still find them under All Contacts
=
Strings
sF_CHAT_INFO_ADMIN_SETTINGS:
=
Strings
sVOICEMAIL_PROMPT:
=
Strings
sVOICEMAIL_PROMPT_TITLE:
=
Strings
sVOICEMAIL_PROMPT_CAP:
=
Strings
sF_USERPROFILE_ADD_NUMBER_LABEL:
=
Strings
sF_USERPROFILE_EDIT_NUMBER:
=
Strings
sF_USERPROFILE_EDIT_NUMBER_HINT:
=
Strings
sF_CHAT_INFO_LEAVE_CONVERSATION:
=
Strings
sCALL_PHONES_LIMITED_EMERGENCY1:
=
Strings
sCALL_PHONES_LIMITED_EMERGENCY2:
=
Strings
sSMS_STATUS_SENT_ZERO_PERSONS:
=
Strings
sSMS_STATUS_SENT_ONE_PERSON:
=
Strings
sSMS_STATUS_SENT_MANY_PERSONS:
=
Strings
sVIDEOCALL_BTN_TOO_MANY_PARTICIPANTS_HINT:
=
Strings
sVIDEOCALL_BTN_SO_CONTACT_HINT:
=
Strings
sVIDEOCALL_BTN_ECHO_CONTACT_HINT:
=
Strings
sCONTACTS_LINK_CAPS:
=
Strings
sRECENTS_LINK_CAPS:
=
Strings
sPHOTO_MSG_NOT_AVAILABLE:
=
Strings
sACC_NAME_PHOTO_MESSAGE:
=
Strings
sTRAYALERT_PHOTO_MESSAGE:
=
Strings
sPHOTO_SAVE_AS:
=
Strings
sPHOTO_MSG_LEGACY_MESSAGE:
=
Strings
sACC_NAME_MYSELF_GRAPHIC:
=
Strings
sSEARCHING_SKYPE_DIRECTORY:
=
Strings
sOPTIONS_SHOW_MESSAGE_PREVIEWS:
=
Strings
sMAINMENU_VIEW_SIMPLE_LIST:
=
Strings
sMAIN_MENU_INTERNAL_FEEDBACK:
=
Strings
sQUICKFILTER_NOTFOUND_SEARCH:
=
Strings
sMESGPREVIEW_POSTED_FILES_SINGLE:
=
Strings
sMESGPREVIEW_POSTED_MEDIA_MESSAGE_SINGLE:
=
Strings
sMESGPREVIEW_POSTED_LOCATION_SINGLE:
=
Strings
sMESGPREVIEW_VOICE_MESSAGE_SINGLE:
=
Strings
sMESGPREVIEW_VIDEO_MESSAGE_SINGLE:
=
Strings
sMESGPREVIEW_POSTED_CONTACTS_SINGLE:
=
Strings
sMESGPREVIEW_POSTED_FILES_MULTI:
=
Strings
sMESGPREVIEW_POSTED_MEDIA_MESSAGE_MULTI:
=
Strings
sMESGPREVIEW_POSTED_LOCATION_MULTI:
=
Strings
sMESGPREVIEW_VOICE_MESSAGE_MULTI:
=
Strings
sMESGPREVIEW_VIDEO_MESSAGE_MULTI:
=
Strings
sMESGPREVIEW_POSTED_CONTACTS_MULTI:
=
Strings
sMESGPREVIEW_REQUESTED_AUTH:
=
Strings
sMESGPREVIEW_GRANTED_AUTH:
=
Strings
sMESGPREVIEW_HAS_BIRTHDAY:
=
Strings
sADDCONTACT_PROMPT:
=
Strings
sADDCONTACT_PROMPT_TITLE:
=
Strings
sADDCONTACT_PROMPT_CAP:
=
Strings
sZAPBUTTON_SHOP:
= Shop
Of course, we could miss something, but we are happy for any help in drawing up the complete list of changes, so if you know any details about this version, or have noticed a mistake leave a comment and we will complement or correct the information.