Skype

6.20.0.618

for Android

Special for Valentine's Day the new version of

Skype for Android

adds the ability to record love video messages and share them via Skype, social networks or email. Also in Skype 6.20.0.618 for Android have also emerged new musical Moji which you can use to congratulate your beloved.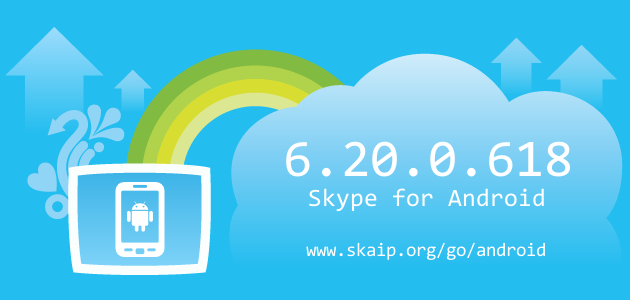 File size:
36.4 MB
Operating system:
Android
Skype version:
6.20.0.618
Release date:
Total downloads:
57
Changelog
The following table contains the list of known changes in version Skype 6.20.0.618 for Android. This will help you to find out what's new in Skype for Android, which errors have been fixed, what work did developers, and a lot of other interesting things.
New
Record and share love video messages
New
New Valentine's Day musical Moji
Improved
General improvements and fixes
Strings
acc_add_moji:
=
Strings
acc_credit_button:
= %1$s credit button
=
Strings
acc_main_menu:
=
Strings
acc_skype_in_number_active:
=
Strings
acc_skype_in_number_inactive:
=
Strings
acc_tab_not_selected:
=
Strings
acc_tab_selected:
=
Strings
header_translator_translation_options:
=
Strings
label_translator_language_selection_settings:
=
Strings
label_translator_show_both_messages:
=
Strings
label_translator_show_only_translated_messages:
=
Strings
label_translator_translate_call:
=
Strings
label_translator_translate_im:
=
Strings
notification_hearts_new_like_received:
=
Strings
text_holiday_card_sub_title:
=
Strings
text_skype_copyright:
= Copyright 2003–2015 Skype and/or Microsoft
=
Strings
text_skype_corelib_version:
=
Of course, we could miss something, but we are happy for any help in drawing up the complete list of changes, so if you know any details about this version, or have noticed a mistake leave a comment and we will complement or correct the information.