Skype

6.22.81.104

for Windows

No comments

466 downloads

The final release of the new version of

Skype for Windows 7

has appeared. This version has recently received an absolutely new interface design. Coming out of the beta Skype 6.22.81.104 for Windows has gained some more minor updates, amendments and

enooormous emoticons

. I don't know who has invented it, but they look cool.

After installing the new version, we are welcomed (

Welcome to the new Skype for Windows 6.22.81.104

) and told about the main advantages of the new version, namely that

free Skype

has been improved for even more comfortable communication (the new style of the chat), exchange of favorite photos and the possibility to make chats more vivid (to show thumbnails), free group video calls and the ability not to interrupt the conversation even being on the road (you can take Skype with you by installing it on your mobile phone).

In the new release the field for writing messages has also been altered. Instead of a single large button that before opened the menu, 4 smaller buttons have been added, with the help of which you can send a picture, video message, file or contact. I think that sending files and photos has really become much easier now.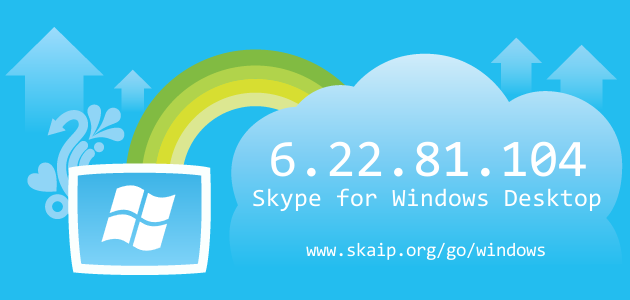 File size:
42.5 MB
Operating system:
Windows
Skype version:
6.22.81.104
Release date:
Total downloads:
466
Changelog
The following table contains the list of known changes in version Skype 6.22.81.104 for Windows. This will help you to find out what's new in Skype for Windows, which errors have been fixed, what work did developers, and a lot of other interesting things.
New
Big emoticons
Fixed
General amendments
Improved
General improvements
Tuned
Altered the field for writing messages
Strings
sZAPBUTTON_VIEWACCOUNT:
= View account
=
Strings
sZAPBUTTON_DONE:
=
Strings
sMAINMENU_SKYPE_ACCOUNT:
= Account...
=
Strings
sTRANSFERFAILURE_TOO_MANY_PARALLEL:
= Too many parallel file sendings
=
Strings
sMAINMENU_VIEW_MULTI_WINDOW_MODE:
= Compact View
=
Strings
sMYINFO_MY_ACCOUNT:
= Manage account
=
Strings
sCHAT_HISTORY_JUMPBACK:
= Jump back
=
Strings
sFILETRANSFER_OPEN_FOLDER_ASYNC:
= SHOW IN FOLDER
=
Strings
sFILETRANSFER_MULTI_DOWNLOAD_ALL:
= DOWNLOAD ALL
=
Strings
sFILETRANSFER_MULTI_CANCEL_ALL:
= CANCEL ALL
=
Strings
sFRE_TITLE:
=
Strings
sFRE_START:
=
Strings
sFRE_CHAT:
=
Strings
sFRE_PHOTO:
=
Strings
sFRE_GROUP:
=
Strings
sFRE_PHONE:
=
Strings
sTRANSFER_FAILED_TOO_MANY_PARALLEL_CAPTION:
=
Strings
sCALL_PHONES_NOTSET_EMERGENCY1:
=
Strings
sCALL_PHONES_NOTSET_EMERGENCY2_INLINE:
=
Strings
sCALL_PHONES_EMERGENCY2_INLINE:
=
Strings
sCALL_PHONES_LIMITED_EMERGENCY2_INLINE:
=
Strings
sCALL_PHONES_EMERGENCY_COUNTRYPICKERLABEL:
=
Strings
sSEND_MEDIA_MENU_HINT:
=
Strings
sCHAT_AD_PLACEHOLDER_TEXT:
=
Strings
sCONVERSATION_PASSPORT_PARTNER_BLOCKED_LINK:
= %s is blocked and can't answer. If you want to chat, <a href='%s'>unblock them from the web profile</a>.
Strings
sF_CHAT_INFO_CREATOR_SETTINGS_CHANGE:
= Allow this group's picture and name to be changed
Of course, we could miss something, but we are happy for any help in drawing up the complete list of changes, so if you know any details about this version, or have noticed a mistake leave a comment and we will complement or correct the information.