Skype

6.23.0.704

for Android

No comments

123 downloads

The

Skype for Android

has been updated to new version and brought the long-awaited feature — the ability to make free group video calls with up to 25 people. Seems, this is the only change made to Skype 6.23.0.704 for Android but I am sure it is enough to bring happiness to many users.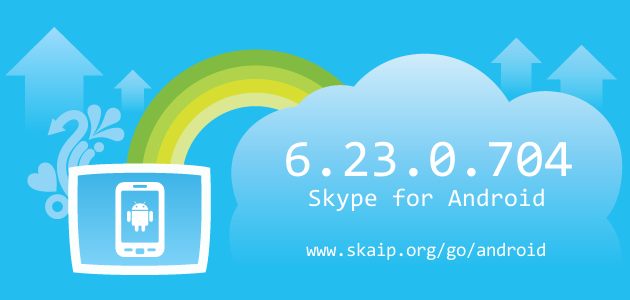 File size:
36.7 MB
Operating system:
Android
Skype version:
6.23.0.704
Release date:
Total downloads:
123
Changelog
The following table contains the list of known changes in version Skype 6.23.0.704 for Android. This will help you to find out what's new in Skype for Android, which errors have been fixed, what work did developers, and a lot of other interesting things.
New
Free group video calls with up to 25 people
Strings
acc_call_audio_routing_button:
=
Strings
header_accept_file:
=
Strings
link_linking_privacy:
= <a href='http://www.skype.com/go/privacy'>Privacy Policy</a>
=
Strings
link_linking_terms_of_use:
= '<a href='http://www.skype.com/go/tou'>Skype's Terms of Use</a>'
=
Strings
link_text_terms_of_use_privacy_policy:
= 'By continuing, you are agreeing to <a href='http://www.skype.com/go/tou'>Skype's Terms of Use</a> and <a href='http://www.skype.com/go/privacy'>Privacy Policy</a>.'
=
Strings
message_accept_unsafe_file:
=
Strings
message_confirm_remove_video_message:
=
Strings
text_contact_request_received_message_area:
=
Strings
acc_options_call_button:
= Open more options
Of course, we could miss something, but we are happy for any help in drawing up the complete list of changes, so if you know any details about this version, or have noticed a mistake leave a comment and we will complement or correct the information.