Skype

6.6.0.333

for Android

If previous versions of

Skype for Android

developers pointed out only the main innovations, for this once they did not stint on the details and told in detail about the changes in the new version. Thus, in Skype 6.6.0.333 for Android have been carried out and added more than 20 changes and innovations. Among the most important it may be noted that the was added support for Android 6.0 Marshmallow and non-GCM devices, improved application interface, fixed bugs with incorrect status, preview links, contacts searching and other errors, including top 5 Google Play Crash "ObjectInterfaceNotFoundException" error.

In addition has been optimized Skype for devices based on Android Wear. In particular, we are talking about reducing energy consumption when processing notifications. Also added the ability to respond with emoticons directly from the screen of smart clocks.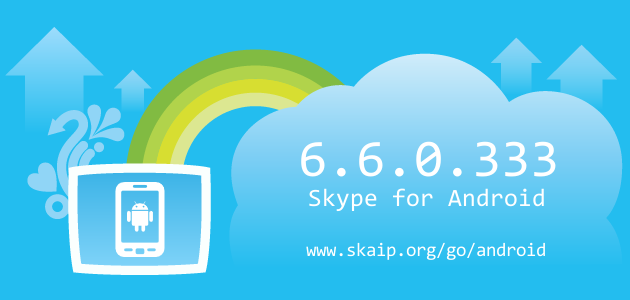 File size:
33.5 MB
Operating system:
Android
Skype version:
6.6.0.333
Release date:
Total downloads:
95
Changelog
The following table contains the list of known changes in version Skype 6.6.0.333 for Android. This will help you to find out what's new in Skype for Android, which errors have been fixed, what work did developers, and a lot of other interesting things.
Tuned
Reply with a Skype emoticon for Android Wear
Improved
Android Wear integration consuming too much battery on notifications
New
Android 6.0 Marshmallow Support (targetSDK API 23)
Changed
Update profile area of nav drawer to have a full-bleed background picture
Fixed
Uploading a high resolution photo results in avatar being displayed in low resolution
Fixed
Android client is now considered as Mobile endpoint
Tuned
Show mobile state in primary indicators
Improved
Mapping presence for contacts
Tuned
Update presence control in profile view
Fixed
Two Tray Icons are seen for the Skype application on Blackberry devices
Improved
Create "before search/empty results" view with suggested contacts (short circuit) promotion
Fixed
Contacts search displays no results (for device/native address book contacts with no Skype ID/name)
Improved
One way suggested contacts are still searchable even if user has selected 'Do not use my address book' option
Fixed
Sharing from camera album to Skype does not work
Fixed
Bing URLs are not showing up correctly
Fixed
Non-GCM devices (BB, Xiami) didn't wake up from hibernation when an incoming call was received
Improved
Invite friends use HTTPS URLs
Fixed
Skype crashes when logging out (on low end devices)
Fixed
Leave group Chat box and string are partly hidden or can't be checked
Fixed
Tap contact's name on chat screen, audio call icon will disappear
Tuned
'Lync' needs to be changed to 'Skype for Business'
Fixed
Was fixed the error «com.skype.android.skylib.ObjectInterfaceNotFoundException: com.skype.android.skylib.ObjectInterfaceNotFoundException: failed to get object of type class com.skype.Conversation with object id 6866»
Strings
wearable_reply_with_emoticon:
=
Strings
base_url:
= http://ui.skype.com/ui/%1$s/%2$s/%3$s/go/%4$s
=
Strings
label_busy:
=
Strings
url_invite_download_link:
= http://www.skype.com/go/download
=
Of course, we could miss something, but we are happy for any help in drawing up the complete list of changes, so if you know any details about this version, or have noticed a mistake leave a comment and we will complement or correct the information.