Skype

6.7.0.460

for Android

Developers of

Skype for Android

continue to please their "fans" and release more and more new versions of the free application. This time it's about Skype 6.7.0.460 for Android, which brings new features, fixes and improvements. In my opinion, the main innovations of this version are the ability to send files to group chats and optimize the application (especially a bug with a high CPU load).

Of course, it's equally important to fix bugs, as well as functions such as start a call/chat using Android Wear devices, search for messages from a specific user, save video files in the local gallery, or update the design of the contacts list tab.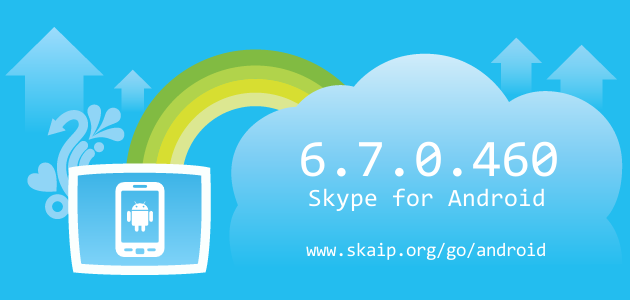 File size:
33.6 MB
Operating system:
Android
Skype version:
6.7.0.460
Release date:
Total downloads:
88
Changelog
The following table contains the list of known changes in version Skype 6.7.0.460 for Android. This will help you to find out what's new in Skype for Android, which errors have been fixed, what work did developers, and a lot of other interesting things.
New
Start chat/calls from smart watch
Changed
Update Contacts Tab with new design
New
Send a file or a photo in group chats
Tuned
Single- and Multi-select on Recent Tab via Long Press
Tuned
Support forwarding of Mojis
New
Local Moji Keyword Search
Tuned
Show the replay button after the Moji is fully downloaded
Fixed
When put Skype to background or PIN-locked screen, user cannot receive the video/audio call
Fixed
Multiple fixes (including high CPU usage)
Fixed
Recipient does not receive a forwarded Photo
New
Search dialogs by skypename in addition to displayname, with proper highlighting
New
Save any video to your local gallery
Strings
acc_presence_status:
=
Strings
action_translate_message:
=
Strings
label_translator_language_Me:
=
Strings
label_translator_language_preview:
=
Strings
label_translator_setting_select:
=
Strings
message_msnp_connected:
=
Strings
message_msnp_connecting:
=
Strings
message_msnp_skype_unavailable:
=
Strings
message_msnp_updating_conversations:
=
Strings
message_state_delivered:
=
Strings
message_state_failed:
=
Strings
message_state_read:
=
Strings
message_state_sending:
=
Strings
message_state_sent:
=
Strings
message_msnp_need_to_sync:
=
Strings
message_msnp_sync_idle:
=
Strings
message_connected:
= Connected
Strings
message_disconnected:
= Disconnected from Skype
Strings
message_fetching_conversations:
= Fetching conversations
Strings
message_need_to_sync:
= Need to sync
Strings
message_sync_idle:
= Done syncing
Of course, we could miss something, but we are happy for any help in drawing up the complete list of changes, so if you know any details about this version, or have noticed a mistake leave a comment and we will complement or correct the information.