Skype

6.9.0.106

for Windows

No comments

2 045 downloads

Today was released Skype for Windows version 6.9 and it's mainly aimed at people with disabilities. Now Skype has accessible mode, to enable it go to Tools → Options... → Advanced → Accessibility → Check the only box called 'Enable accessible mode'. The official Skype website says almost nothing about what this mode does, there are only a few hints about supporting NVDA (NonVisual Desktop Access) — a free screen reader application.

All what I could to find about accessible mode by myself are dashed stroke around the clicked element and chat focusing by pressing the up button (by default pressing this button allows you to edit the last sent message). Probably, functional of this mode is much broader, so if you know something about the accessible mode, please leave your comment below!

Among other changes in Skype 6.9.0.106 for Windows, I found that was removed Skype apps. Developers removed them due to closing the Skype app store and dropped support for the Skype Desktop API. Despite this, applications using API continue its work.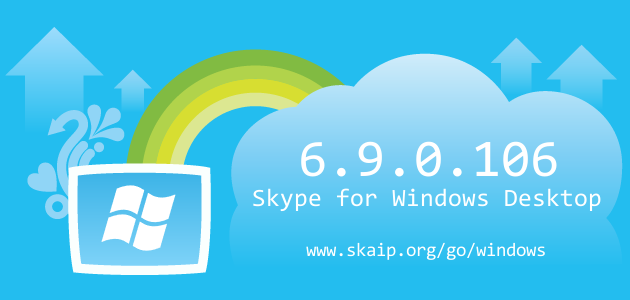 File size:
31.0 MB
Operating system:
Windows
Skype version:
6.9.0.106
Release date:
Total downloads:
2 045
Changelog
The following table contains the list of known changes in version Skype 6.9.0.106 for Windows. This will help you to find out what's new in Skype for Windows, which errors have been fixed, what work did developers, and a lot of other interesting things.
New
Accessible mode
New
NVDA support
Tuned
Removed apps
Tuned
Dropped Skype Desktop API support
New
Added the new chat types (SMS, Skype, Facebook, Messenger, Lync)
Strings
sF_OPTIONS_SOUNDS_MESSAGE:
= incoming IM
=
Strings
sF_OPTIONS_SOUNDS_MESSAGE2:
= incoming message
=
Strings
sLIVE_PLUS_BUTTON_HINT:
= Add, send and share...
=
Strings
sACC_NAME_MYSELF_HEADER:
= Me
=
Strings
sCHAT_LEGACY_MEMBER_ADDED:
= %s needs to upgrade Skype to participate in this chat. Help by sending them to Skype.com/downloads.
=
Strings
sACC_CALL_PHONES_AUTO_COMPLETE_POPUP_NAME:
=
Strings
sACC_HISTORY_ITEM_IMAGE_IN_VOICE_MESSAGE:
=
Strings
sACC_HISTORY_ITEM_IMAGE_OUT_VOICE_MESSAGE:
=
Strings
sACC_HISTORY_ITEM_IMAGE_IN_FILE:
=
Strings
sACC_HISTORY_ITEM_IMAGE_OUT_FILE:
=
Strings
sACC_HISTORY_ITEM_IMAGE_IN_SMS_MESSAGE:
=
Strings
sACC_HISTORY_ITEM_IMAGE_OUT_SMS_MESSAGE:
=
Strings
sACC_HISTORY_ITEM_IMAGE_IN_CHAT_MESSAGE:
=
Strings
sACC_HISTORY_ITEM_IMAGE_OUT_CHAT_MESSAGE:
=
Strings
sACC_NAME_LIVE_LIST:
=
Strings
sACC_NAME_LIVE_ITEM_VIDM_REC_INDICATOR:
=
Strings
sACC_NAME_LIVE_ITEM_IMAGE_RINGING:
=
Strings
sACC_NAME_LIVE_ITEM_IMAGE_CALL:
=
Strings
sACC_NAME_LIVE_ITEM_IMAGE_ENDED:
=
Strings
sACC_NAME_LIVE_ITEM_IMAGE_ON_HOLD:
=
Strings
sACC_NAME_LIVE_ITEM_IMAGE_MUTED:
=
Strings
sACC_NAME_CONVERSATION_ITEM_HAS_EVENTS:
=
Strings
sACC_NAME_INBOX_ITEM_MISSED_CALL_EVENT:
=
Strings
sACC_NAME_INBOX_ITEM_BIRTHDAY_EVENT:
=
Strings
sACC_NAME_CONVERSATIONS_CONTROL_TABS:
=
Strings
sACC_NAME_SMS_ENTRY:
=
Strings
sHOTKEY_REJECT:
=
Strings
sF_OPTIONS_PLAY_CUSTOM_ACCNAME:
=
Strings
sF_OPTIONS_PLAY_DEFAULT_ACCNAME:
=
Strings
sF_OPTIONS_RECORD_ACCNAME:
=
Strings
sF_OPTIONS_DELETE_ACCNAME:
=
Strings
sCHAT_LEGACY_MEMBER_ADDED_DOGFOOD:
=
Strings
sACC_OPTIONS_VOICEMAIL_SETTINGS:
=
Strings
sACC_OPTIONS_CALL_FORWARDING_SETTINGS:
=
Strings
sACC_OPTIONS_SMS_SETTINGS:
=
Strings
sACC_OPTIONS_CALL_FORWARDING_ENTER_PHONE_COMBO_NAME:
=
Strings
sACC_NAME_LIVE_SELECT_CONTACTS_LABELED_EDIT:
=
Strings
sNOTIFY_API_DEPRECATION_MESSAGE:
=
Strings
sACC_NAME_CHAT_CHANNEL_SWITCHER_SMS:
=
Strings
sACC_NAME_CHAT_CHANNEL_SWITCHER_SKYPE:
=
Strings
sACC_NAME_CHAT_CHANNEL_SWITCHER_FACEBOOK:
=
Strings
sACC_NAME_CHAT_CHANNEL_SWITCHER_PASSPORT:
=
Strings
sACC_NAME_CHAT_CHANNEL_SWITCHER_LYNC:
=
Strings
sF_VOICEMAIL_OPTIONS_INFO_CALL_FORWARDING:
=
Strings
sF_VOICEMAIL_OPTIONS_INFO_NO_CALL_FORWARDING:
=
Strings
sACC_ACTION_EXPAND:
=
Strings
sACC_ACTION_COLLAPSE:
=
Strings
sACC_ACTION_BUTTON_CLICK:
=
Strings
sACC_ACTION_LINK_CLICK:
=
Strings
sACC_ACTION_CHECK:
=
Strings
sACC_NAME_STATUS_UNKNOWN2:
=
Strings
sACC_NAME_STATUS_PENDING:
=
Strings
sACC_NAME_STATUS_BLOCKED:
=
Strings
sACC_NAME_STATUS_PSTN:
=
Strings
sACC_NAME_STATUS_OFFLINE:
=
Strings
sACC_NAME_STATUS_OFFLINE_VM:
=
Strings
sACC_NAME_STATUS_OFFLINE_CF:
=
Strings
sACC_NAME_STATUS_ONLINE:
=
Strings
sACC_NAME_STATUS_AWAY:
=
Strings
sACC_NAME_STATUS_DND:
=
Strings
sACC_NAME_STATUS_ONLINE_MOBILE:
=
Strings
sACC_NAME_STATUS_AWAY_MOBILE:
=
Strings
sACC_NAME_STATUS_DND_MOBILE:
=
Strings
sACC_NAME_STATUS_BLOCKED_FLAMINGO:
=
Strings
sACC_NAME_STATUS_OFFLINE_FLAMINGO:
=
Strings
sACC_NAME_STATUS_ONLINE_FLAMINGO:
=
Strings
sACC_NAME_STATUS_AWAY_FLAMINGO:
=
Strings
sACC_NAME_STATUS_DND_FLAMINGO:
=
Strings
sACC_NAME_STATUS_BLOCKED_PASSPORT:
=
Strings
sACC_NAME_STATUS_OFFLINE_PASSPORT:
=
Strings
sACC_NAME_STATUS_ONLINE_PASSPORT:
=
Strings
sACC_NAME_STATUS_AWAY_PASSPORT:
=
Strings
sACC_NAME_STATUS_DND_PASSPORT:
=
Strings
sACC_NAME_STATUS_PENDING_LYNC:
=
Strings
sACC_NAME_STATUS_BLOCKED_LYNC:
=
Strings
sACC_NAME_STATUS_OFFLINE_LYNC:
=
Strings
sACC_NAME_STATUS_ONLINE_LYNC:
=
Strings
sACC_NAME_STATUS_AWAY_LYNC:
=
Strings
sACC_NAME_STATUS_DND_LYNC:
=
Strings
sF_OPTIONS_ASSOCIATE_WITH_TEL:
=
Strings
sCALL_POPUP_CALL_FLAMINGO:
=
Strings
sCALL_POPUP_CALL_LYNC:
=
Strings
sCALL_POPUP_CALL_VOICEMAIL:
=
Strings
sCALL_POPUP_CALL_SKYPE:
=
Strings
sCALL_POPUP_CALL_HOME:
=
Strings
sCALL_POPUP_CALL_OFFICE:
=
Strings
sCALL_POPUP_CALL_MOBILE:
=
Strings
sCALL_POPUP_CALL_OTHER:
=
Strings
sCALL_POPUP_CALL_PHONE:
=
Strings
sCALL_POPUP_SMS_HOME:
=
Strings
sCALL_POPUP_SMS_OFFICE:
=
Strings
sCALL_POPUP_SMS_MOBILE:
=
Strings
sCALL_POPUP_SMS_OTHER:
=
Strings
sCALL_POPUP_SMS_PHONE:
=
Strings
sACC_NAME_CHAT_PARTICIPANT_LIST:
=
Strings
sACC_NAME_CHAT_CONTENT_LIST:
=
Strings
sACC_NAME_FILE_MESSAGE:
=
Strings
sACC_NAME_VIDEO_MESSAGE:
=
Strings
sACC_NAME_SMS_MESSAGE:
=
Strings
sACC_NAME_SMS_MESSAGE2:
=
Strings
sF_OPTIONS_PAGE_ACCESSIBILITY:
=
Strings
sF_OPTIONS_LBC_ACCESSIBILITY:
=
Strings
sF_ACC_SETTINGS:
=
Strings
sACC_NAME_PIN_ICON:
=
Strings
sACC_NAME_UNPIN_ICON:
=
Strings
sF_ACC_NAME_CHOOSE_CONTACTS_LIST:
=
Strings
sF_ACC_NAME_SELECTED_CONTACTS_LIST:
=
Strings
sF_ACC_ENTER_PHONE:
=
Strings
sF_ACC_SMS_CONFIRM_SEND:
=
Strings
sACC_CHAT_HISTORY_MESSAGE_CUSTOM:
=
Strings
sACC_CHAT_HISTORY_YESTERDAY:
=
Strings
sACC_CHAT_HISTORY_7DAYS:
=
Strings
sACC_CHAT_HISTORY_30DAYS:
=
Strings
sACC_CHAT_HISTORY_3M:
=
Strings
sACC_CHAT_HISTORY_6M:
=
Strings
sACC_CHAT_HISTORY_12M:
=
Strings
sACC_CHAT_HISTORY_BEGINNING:
=
Strings
sACC_SHOW_CONTACT_PROFILE_HEADER:
=
Strings
sACC_HIDE_CONTACT_PROFILE_HEADER:
=
Strings
sACC_GSW_SELECT_SPEAKER:
=
Strings
sACC_GSW_SELECT_MIC:
=
Strings
sACC_GSW_PROFILE_PICTURE:
=
Strings
sF_USERENTRY_BUTTON_CANCEL:
= Cancel
Strings
sF_USERENTRY_CAPTION_CREATE_ACCOUNT:
= Create account
Strings
sF_USERENTRY_INFO_CREATE_ACCOUNT:
= Create a new Skype account
Strings
sF_USERENTRY_LABEL_CHOOSE_USERNAME:
= Create Skype Name
Strings
sF_USERENTRY_LABEL_PASSWORD2:
= Repeat password
Strings
sF_USERENTRY_CHECKBOX_SPAM:
= Yes, send me Skype news and promotions
Strings
sF_USERENTRY_SIGNIN:
= Already have a Skype account? <a href='x'>Sign in</a>
Strings
sF_USERPROFILE_LB_FULLNAME:
= Full name
Strings
sF_USERPROFILE_LB_PROVINCE:
= State/Province
Strings
sF_SEARCH_FIELD_USERNAME:
= Skype Name
Strings
sF_SEARCH_FIELD_FULLNAME:
= Full name
Strings
sF_SEARCH_FIELD_COUNTRY:
= Country/Region
Strings
sF_SEARCH_FIELD_LANGUAGE:
= Language
Strings
sF_SEARCH_FIELD_CITY:
= City
Strings
sF_USERENTRY_ERROR_PASSWORD_INVALID:
= The password you have entered has invalid characters
Strings
sF_USERENTRY_PROFILE_NAME:
= Full name
Strings
sF_USERENTRY_PROFILE_COUNTRY:
= Country/Region
Strings
sF_USERENTRY_PROFILE_CITY:
= City
Strings
sF_USERENTRY_PROFILE_EMAIL:
= Email
Strings
sF_VOICEMAIL_OPTIONS_LB3:
= Note: If call forwarding is on, calls will be sent first to the phone number(s) you entered
Strings
sF_VOICEMAIL_OPTIONS_LB4:
= If there is no answer, calls will be recorded as a voice message
Strings
sF_AUTH_BTN_BLOCK:
= Block
Strings
sF_USERENTRY_ERROR_1107:
= Invalid address
Strings
sF_USERENTRY_ERROR_1109:
= Skype Name contains invalid characters.
Strings
sF_USERENTRY_LB_EXPLAIN:
= Sorry - the Skype Name you've entered is already taken. Enter a new Skype Name or choose one of these suggestions:
Strings
sF_OPTIONS_RC_AD_VIDEO1:
= no one
Strings
sF_OPTIONS_RC_AD_VIDEO2:
= people in my Contact list only
Strings
sF_OPTIONS_VIDEO_LB4:
= Show that I have video to...
Strings
sF_AUTHQUERY_DEFAULT3:
= Enter a message to introduce yourself.
Strings
sF_SEARCH_RESULTS:
= Search results
Strings
sF_USERENTRY_LB_EULA3:
= Yes, I have read and I accept the <a href='skype:?go#eula'>Skype End User License Agreement</a>, the <a href='skype:?go#tos'>Skype Terms of Use</a> and the <a href='skype:?go#privacy'>Skype Privacy Statement</a>
Strings
sF_PRIVACY_CHANGE_TITLE:
= Privacy protection
Strings
sF_PRIVACY_CHANGE_HEADER1:
= Do you receive unwanted calls?
Strings
sF_PRIVACY_CHANGE_HEADER2:
= Do you receive unwanted IM messages?
Strings
sF_PRIVACY_CHANGE_BTN_OK:
= OK
Strings
sF_PRIVACY_CHANGE_BTN_CANCEL:
= Cancel
Strings
sF_PRIVACY_CHANGE_RB_ANYONE1:
= Allow calls from everyone.
Strings
sF_PRIVACY_CHANGE_RB_ANYONE2:
= Allow IMs from everyone.
Strings
sF_PRIVACY_CHANGE_RB_CONTACTS1:
= Allow calls only from my contacts.
Strings
sF_PRIVACY_CHANGE_RB_CONTACTS2:
= Allow IM from my contacts only.
Strings
sF_PRIVACY_CHANGE_LB_OPTIONS:
= <a href='skype:?options#privacy'>Advanced privacy options</a>
Strings
sF_VOICEMAIL_OPTIONS_LB5:
= Call forwarding is active. Calls will be sent first to the phone number(s) set.
Strings
sF_OPTIONS_UPGRADE_SKYPPRO:
= Get a subscription
Strings
sF_ADDFRIEND_SERTIFIED_HINT:
= This is a business contact.
Strings
sTOOLTIP_CHAT_THUMB:
= Play video %s
Strings
sF_ADDFRIEND_IMG_SERTIFIED:
= Business contact
Strings
sZAPBUTTON_FILE:
= File
Strings
sZAPBUTTON_PHONES:
= Call
Strings
sZAPBUTTON_SCREENSHARINGSHAREWINDOW:
= Show selected window
Strings
sAUTHORIZE_REQUEST_CAPTION:
= %s has added you as a contact.
Strings
sAUTHORIZE_COPY_REQUEST:
= Copy
Strings
sF_AUTH_BTN_UNBLOCK:
= Unblock
Strings
sF_IMPORTCONTACTS_LB_TITLE:
= Find your friends
Strings
sMAINMENU_TOOLS_ACCESSIBILITY:
= Accessibility
Strings
sMAINMENU_TOOLS_ACCESSIBILITY_NAVIGATION:
= Extended Keyboard Navigation
Strings
sMAINMENU_TOOLS_SHARE:
= Share Skype with a Friend...
Strings
sAUTHORIZATION_PANEL_TIP:
= You can control who can contact you in your <a href='skype:?options#privacy'>privacy settings</a>.
Strings
sAUTHORIZATION_PANEL_COMMENT:
= Clicking Add to Contacts means this person can see when you are online
Strings
sAUTHORIZE_BLOCKED_CAPTION2:
= %s is on your blocked list
Strings
sF_OPTIONS_LBL_VISUAL_STYLE:
= Visual style of the window
Strings
sF_OPTIONS_RB_CHROME_SKYPE:
= Skype
Strings
sF_OPTIONS_RB_CHROME_DEFAULT:
= Classic Windows
Strings
sSINGLE_WINDOW_MODE_BUTTON_HINT:
= Default View
Strings
sMULTI_WINDOW_MODE_BUTTON_HINT:
= Compact View
Strings
sACC_SHOW_CONTACT_PROFILE:
= Display contact profile
Strings
sACC_HIDE_CONTACT_PROFILE:
= Hide contact profile
Strings
sINVITE_HEADING2:
= 1 new contact added
Strings
sINVITE_CONTACT_CAPTION:
= You received an email invitation from <b>%s</b>.<br />Would you like to add this person as a contact on Skype?
Strings
sINVITE_ADDED_CAPTION1:
= Find them in your Contact list and send them messages
Strings
sINVITE_ADDED_CAPTION2:
= Until they OK you as a contact, they look like this
Strings
sINVITE_ADDED_CAPTION3:
= When they OK you, see when they're online and call them for free
Strings
sACC_DROPDOWBUTTON_DESCIPTION:
= To press use spacebar
Strings
sPARTICIPANT_CALL_STATE_INCALL:
= In call
Strings
sPARTICIPANT_CALL_STATE_ONHOLD:
= On hold
Strings
sPARTICIPANT_CALL_STATE_MUTED:
= Muted
Strings
sPARTICIPANT_CALL_STATE_MISSED:
= Missed call
Strings
sCHATITEM_DESCRIPTION_FROM:
= From %s
Strings
sCHATITEM_DESCRIPTION_TIMESTAMP:
= at %s
Strings
sALERTS_TITLE:
= Notifications
Strings
sUSERCREATE_NAME_HINT:
= 6-32 characters needed
Strings
sUSERCREATE_FULLNAME_HINT:
= Enter your name
Strings
sUSERCREATE_ERROR_NAMETOOSHORT:
= Too short: 6 characters min.
Strings
sUSERCREATE_ERROR_NAMETOOLONG:
= Too long: 32 characters max.
Strings
sUSERCREATE_ERROR_NAMEINVALIDCHAR:
= Can only contain A-z 0-9 - _ .
Strings
sUSERENTRY_GETHELP:
= <a href='skype:?go#help.password.faq1'>Get help</a>
Strings
sF_USERENTRY_BUTTON_CREATE:
= Create account
Strings
sF_USERENTRY_BUTTON_AGREE:
= I agree - create account
Strings
sF_USERENTRY_BUTTON_CONTINUE:
= OK
Strings
sF_USERENTRY_ERROR_GENERAL:
= There was a problem creating your account. Please try again.
Strings
sF_USERENTRY_EMAIL_HINT:
= Enter a valid email address
Strings
sF_USERENTRY_REPEAT_EMAIL:
= Repeat email
Strings
sF_USERENTRY_HINT1:
= Note: anyone can see this information. Please fill in all fields.
Strings
sF_USERENTRY_HINT2:
= Note: only you can see this information. Please fill in all fields.
Strings
sF_USERENTRY_HINT3:
= Note: anyone can see this information. It's optional, so you don't have to enter it.
Strings
sF_USERENTRY_HINT4:
= Note: only your contacts can see this information. Filling it in is optional.
Strings
sF_USERENTRY_PHONE_HINT:
= Enter %s's phone number.
Strings
sF_USERENTRY_PHONE_HINT2:
= Enter the phone number with country or region code.
Strings
sF_USERENTRY_PROFILE_HINT1:
= When your friends search for you on Skype, this information helps you stand out from other people who share your name.
Strings
sF_USERENTRY_PROFILE_HINT2:
= If you enter your birth date, Skype sends your friends a reminder when it's your birthday.
Strings
sF_USERENTRY_PROFILE_HINT3:
= Enter your mobile number so your contacts can call you when you're offline.
Strings
sF_USERENTRY_SUGGEST1:
= Skype Name not available
Strings
sF_USERENTRY_BIRTHDAY:
= Birthday
Strings
sF_USERENTRY_PHONE:
= Mobile phone number
Strings
sF_USERENTRY_PHONE_ERROR:
= Invalid phone number
Strings
sF_USERENTRY_EMAIL_OK:
= Email OK
Strings
sF_USERENTRY_EMAIL_INVALID:
= Invalid email address
Strings
sF_USERENTRY_EMAIL_MATCH:
= Emails match
Strings
sF_USERENTRY_EMAIL_NO_MATCH:
= Emails don't match
Strings
sF_USERENTRY_INFO_PROFILE:
= Set up your Skype profile
Strings
sAUTH_REQUEST_MSG_HEADER:
= This person would like to connect with you
Strings
sTRAYALERT_AUTH_REQUEST:
= New contact request
Strings
sF_USERENTRY_LB_PROGRESS:
= Checking your Skype Name is available
Strings
sUSERCREATE_ERROR_NOFULLNAME:
= Please fill in your full name
Strings
sCONVERSATION_PARTNER_NOT_BUDDY:
= Want to message this person? <a href='skype:%s?add'>Add them as a contact first</a>.
Strings
sMYSELF_PROFILE_LOCATION:
= Location
Strings
sMYSELF_PROFILE_CALLER_ID_LINK:
= Set up caller ID
Strings
sMYSELF_PROFILE_CALL_FORWARD_LINK:
= Set up call forwarding
Strings
sPROFILE_AVARAR_LABEL:
= Picture
Strings
sPROFILE_SKYPENAME_LABEL:
= Skype Name
Strings
sPROFILE_ADD_EMAIL_LINK:
= Add another email address
Strings
sPROFILE_ACCOUNT_LABEL:
= Account
Strings
sCONTACT_NOTIFICATION:
= Contact request
Strings
sCONTACT_NOTIFICATION_MANY:
= Contact requests
Strings
sAUTH_REQUEST_EMAIL_COMPANY:
= <b>%s</b> registered with Skype as an employee of <b>%s</b> under <b>%s</b>
Strings
sAUTH_REQUEST_EMAIL:
= <b>%s</b> registered with Skype under the email <b>%s</b>
Strings
sPROFILE_ADD_EMAIL_TEXT:
= (Makes it easier to find you)
Strings
sAUTH_REQUEST_COMPANY:
= <b>%s</b> registered with Skype as an employee of <b>%s</b>
Strings
sMAINMENU_TOOLS_ACCESSIBILITY_ASSISTED:
= Screen Reader Mode
Strings
sADD_CONTACT_LONG:
= Add a contact
Strings
sADD_CONTACT_SHORT:
= Contact
Strings
sCREATE_GROUP_LONG:
= Create a group
Strings
sCREATE_GROUP_SHORT:
= Group
Strings
sMYSELF_PANEL_PROF_ACCOUNT:
= Professional account
Strings
sSMS_TO_BUTTON:
= To %s
Strings
sMENU_EDIT_COLUMN_ACCNAME:
= Edit
Strings
sCALL_PHONES:
= Call phones
Strings
sNEW_ACCOUNT_NOTIFY:
= New account notification
Strings
sNEW_ACCOUNT_NOTIFY_MANY:
= New account notifications
Strings
sZAPCONTACT_XMPP:
= Facebook
Strings
sSMS_REPLY_TO_CHAT:
= Replies will be shown here
Strings
sSMS_REPLY_TO_NUM:
= Replies will be sent to %s
Strings
sSMS_REPLY_TO_NONE:
= To receive replies, add a From number
Strings
sSMS_FROM_MORE_OPTIONS:
= More options
Strings
sSMS_FROM_SKYPE_DISABLED:
= Skype (not available)
Strings
sF_OPTIONS_SMS_CAPTION1:
= To receive SMS replies directly in Skype
Strings
sF_OPTIONS_SMS_CAPTION2:
= Below the chat box, select <b>Reply to</b> and choose <b>Skype</b>.
Strings
sF_OPTIONS_SMS_CAPTION3:
= (Not available with some mobile numbers.)
Strings
sF_OPTIONS_SMS_CAPTION4:
= To receive SMS replies on your mobile
Strings
sF_OPTIONS_SMS_CAPTION5:
= Below the chat box, select <b>Reply to</b> and choose <b>Mobile</b>.
Strings
sF_OPTIONS_SMS_VER_NUMBERS:
= Your verified numbers:
Strings
sF_OPTIONS_SMS_VER_CAPTION:
= Please verify your mobile number below:
Strings
sF_USERINFO_AGE_JUST_GOT_NOYEAR:
= It's %s's birthday today
Strings
sSKYPEWIFI_ONLINE_DESC:
= Your Internet connection will time out in {MINUTES_REMAINING} minutes. You can disconnect at any time and you'll only be charged for the minutes used.
Strings
sSKYPEWIFI_ONLINE_REMAINING:
= {MINUTES_REMAINING} minutes remaining
Strings
sSKYPEWIFI_ONLINE_REMAINING_ONE:
= 1 minute remaining
Strings
sSKYPEWIFI_EXTEND_REMAINING:
= {MINUTES_REMAINING} minutes remaining
Strings
sSKYPEWIFI_EXTEND_REMAINING_ONE:
= 1 minute remaining
Strings
sSKYPEWIFI_FLOATER_REMAINING:
= {MINUTES_REMAINING} minutes remaining
Strings
sSKYPEWIFI_FLOATER_REMAINING_ONE:
= 1 minute remaining
Strings
sSKYPEWIFI_FLOATER_NOTIME:
= Connected
Strings
sSKYPEWIFI_FLOATER_EXTEND:
= Click here to extend your session
Strings
sVIDEOMSG_STATUS_TEXT_FAILED:
= Video message not sent
Strings
sVIDEOMSG_STATUS_TEXT_DELETED:
= Video message removed
Strings
sSEND_SMS_TARGET_HINT:
= Change where you send SMS.
Strings
sSEND_SMS_TARGET_MENU_TITLE:
= Send SMS to
Strings
sSMS_VERIFY_NUMBER_PROMPT:
= To send SMS to this number, you need to <a href='skype:?options#sms'>verify your mobile number</a>.
Strings
sACC_CHANNEL_SWITCHER_VIA_SKYPE_HINT:
= via Skype, use the channel switcher to change to via SMS and more
Strings
sACC_CHANNEL_SWITCHER_VIA_SMS_TO_SKYPE_HINT:
= via SMS, use the channel switcher to change to via Skype and more
Strings
sACC_CHANNEL_SWITCHER_VIA_FACEBOOK_HINT:
= via Facebook, use the channel switcher to change to via SMS and more
Strings
sACC_CHANNEL_SWITCHER_VIA_SMS_TO_FACEBOOK_HINT:
= via SMS, use the channel switcher to change to via Facebook and more
Strings
sACC_CHANNEL_SWITCHER_VIA_PASSPORT_HINT:
= via Messenger, use the channel switcher to change to via SMS and more
Strings
sACC_CHANNEL_SWITCHER_VIA_SMS_TO_PASSPORT_HINT:
= via SMS, use the channel switcher to change to via Messenger and more
Strings
sACC_CHANNEL_SWITCHER_VIA_LYNC_HINT:
= via Lync, use the channel switcher to change to via SMS and more
Strings
sACC_CHANNEL_SWITCHER_VIA_SMS_TO_LYNC_HINT:
= via SMS, use the channel switcher to change to via Lync and more
Strings
sVIDEOMSG_VIEWER_CLOSE_HINT:
= Close
Strings
sCQ_VIDEO_MESSAGE_TITLE:
= Camera in use
Strings
sCQ_VIDEO_MESSAGE_DESC:
= To see your camera, close your video message first.
Strings
sVIDEOMSG_PREMIUM_UPSELL_TITLE:
= You have no free video messages left
Strings
sVIDEOMSG_PREMIUM_UPSELL_MESSAGE:
= Upgrade to a Premium account to enjoy unlimited video messages.
Strings
sECHO_DISPLAY_NAME:
= Echo/Sound Test Service
Strings
sACC_NAME_SEARCH_ALL:
= Search all people on Skype
Strings
sACC_NAME_EMOTICON_SELECTOR:
= Insert emoticon
Strings
sACC_NAME_CHANNEL_SWITCHER:
= change message type
Strings
sNOTIFY_API_DEPRECATION_NESSAGE:
= %s will no longer be supported in next versions of Skype. Thanks for continuing to use Skype.
Of course, we could miss something, but we are happy for any help in drawing up the complete list of changes, so if you know any details about this version, or have noticed a mistake leave a comment and we will complement or correct the information.