Skype

7.04.0.618

for Android

No comments

106 downloads

The Skype 7.04.0.618 for Android has been released, and like the

previous version

, the new one is just about bug fixes and accessibility improvements.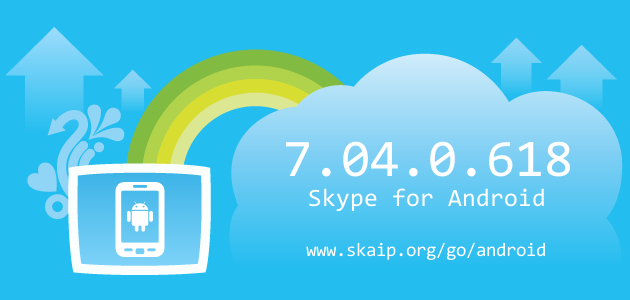 File size:
39.7 MB
Operating system:
Android
Skype version:
7.04.0.618
Release date:
Total downloads:
106
Changelog
The following table contains the list of known changes in version Skype 7.04.0.618 for Android. This will help you to find out what's new in Skype for Android, which errors have been fixed, what work did developers, and a lot of other interesting things.
Strings
header_new_install:
= Hi there
=
Strings
label_enter_username_here:
= Enter here
=
Strings
message_enter_username:
= Enter your phone, email or skypename to get started
=
Strings
message_sign_in_enter_user_id:
= Enter your Skype name, email or phone number
=
Strings
text_list_comma_delimited_clause_with_period:
=
Strings
text_swift_card_invalid_button:
=
Strings
text_swift_card_invalid_message:
=
Strings
text_swift_card_receipt_tax:
=
Strings
text_swift_card_receipt_total:
=
Strings
text_swift_card_receipt_vat:
=
Strings
text_swift_card_show_all:
=
Strings
text_swift_card_show_less:
=
Strings
text_swift_card_signin_connect_button:
=
Strings
text_swift_card_unsupported_button:
=
Strings
text_swift_card_unsupported_message:
=
Strings
header_get_started:
=
Strings
header_skype_needs_attention:
=
Strings
text_join_skype_start_communication_personalized:
=
Of course, we could miss something, but we are happy for any help in drawing up the complete list of changes, so if you know any details about this version, or have noticed a mistake leave a comment and we will complement or correct the information.