Skype

7.06.0.617

for Android

A new version of

Skype for Android

has been released today and fixes several bugs. First of all deserves to be told about some bugfixes for Android Nougat which though is not officially supported yet, but should not be crashing any longer. The second one, this version fixes advertisement code that resulted in crashes on landscape, thereby it re-enable ads for free Android users. Also, the Skype 7.06.0.617 for Android adds community link from the help section in settings and includes accessibility improvements, mainly screen reader and button texts.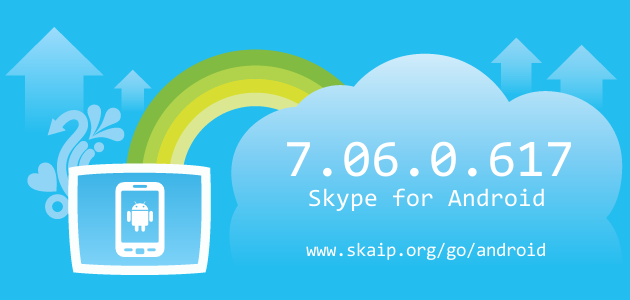 File size:
39.6 MB
Operating system:
Android
Skype version:
7.06.0.617
Release date:
Total downloads:
26
Changelog
The following table contains the list of known changes in version Skype 7.06.0.617 for Android. This will help you to find out what's new in Skype for Android, which errors have been fixed, what work did developers, and a lot of other interesting things.
Unresolved
Bad audio and video quality for some users
Fixed
Bugfixes for Android Nougat
Fixed
Fixes to ad code that crashes Skype on landscape
Tuned
Community link from the help section in settings
Improved
Accessibility improvements
Strings
acc_add_emoticon:
= Add emoticon
=
Strings
acc_add_moji:
= Add Moji
=
Strings
acc_fab_closed:
=
Strings
acc_fab_expanded:
=
Strings
acc_send_file:
= Send file
=
Strings
acc_send_location:
= Send location
=
Strings
acc_send_photo:
= Send photo
=
Strings
acc_status_away:
=
Strings
acc_status_do_not_disturb:
=
Strings
acc_take_photo:
= Take photo
=
Strings
acc_video_message_record:
= Record video message
=
Strings
header_invite_to_skype:
=
Strings
label_enter_username_here:
= Email, phone or SkypeID
=
Strings
message_enter_username:
= Please enter your email, phone or SkypeID
=
Strings
message_off_network_invite_creating_invite:
=
Strings
text_off_network_contact_by_sms_or_email:
=
Strings
text_off_network_invite_more_options:
=
Strings
ocl_lib_name:
=
Of course, we could miss something, but we are happy for any help in drawing up the complete list of changes, so if you know any details about this version, or have noticed a mistake leave a comment and we will complement or correct the information.