Skype

7.11.0.102

for Windows

No comments

796 downloads

Today has been released a new version of

Skype for Windows

which is available for download from the official site. However, the stable version is still considered

7.10.0.101

and most users during checking for updates will not be notified about the new version.

As for changes in Skype 7.11.0.102 for Windows, it seems all the work was carried out "under the hood" and at first glance, you might think that it is not adding anything new. I do not know about the errors, but soon come to pass that the

developers have promised

— in Skype for Windows will integrate Skype Translator (but function is not available yet and the exact date is not known).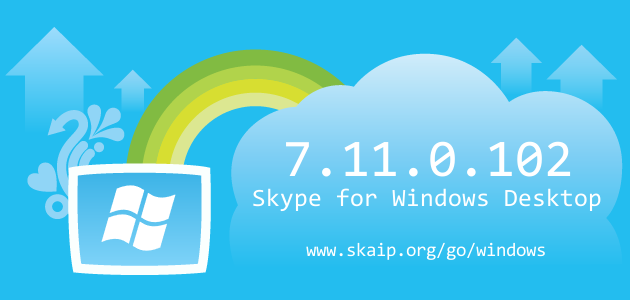 File size:
41.6 MB
Operating system:
Windows
Skype version:
7.11.0.102
Release date:
Total downloads:
796
Changelog
The following table contains the list of known changes in version Skype 7.11.0.102 for Windows. This will help you to find out what's new in Skype for Windows, which errors have been fixed, what work did developers, and a lot of other interesting things.
Changed
Preparing for integration of Skype Translator
Strings
sZAPBUTTON_TOGGLETRANSLATOR:
=
Strings
sZAPBUTTON_TRANSLATOROPTIONS:
=
Strings
sTRANSLATOR_ME_CAPTION:
=
Strings
sTRANSLATOR_OTHER_CAPTION:
=
Strings
sTRANSLATOR_PREVIEW:
=
Strings
sOPTIONS_TRANSLATOR_ENABLED:
=
Strings
sF_OPTIONS_PAGE_TRANSLATOR:
=
Strings
sF_OPTIONS_LBC_TRANSLATOR:
=
Strings
sTRANSLATOR_DISCOVERY_MESSAGE:
=
Strings
sCHAT_POPUP_TRANSLATE_TO:
=
Strings
sCHAT_POPUP_TRANSLATE_ORG:
=
Strings
sTRANSLATOR_LANG_ar:
=
Strings
sTRANSLATOR_LANG_bg:
=
Strings
sTRANSLATOR_LANG_bs:
=
Strings
sTRANSLATOR_LANG_ca:
=
Strings
sTRANSLATOR_LANG_cs:
=
Strings
sTRANSLATOR_LANG_cy:
=
Strings
sTRANSLATOR_LANG_da:
=
Strings
sTRANSLATOR_LANG_de:
=
Strings
sTRANSLATOR_LANG_el:
=
Strings
sTRANSLATOR_LANG_en:
=
Strings
sTRANSLATOR_LANG_es:
=
Strings
sTRANSLATOR_LANG_et:
=
Strings
sTRANSLATOR_LANG_fa:
=
Strings
sTRANSLATOR_LANG_fi:
=
Strings
sTRANSLATOR_LANG_fr:
=
Strings
sTRANSLATOR_LANG_he:
=
Strings
sTRANSLATOR_LANG_hi:
=
Strings
sTRANSLATOR_LANG_hr:
=
Strings
sTRANSLATOR_LANG_ht:
=
Strings
sTRANSLATOR_LANG_hu:
=
Strings
sTRANSLATOR_LANG_id:
=
Strings
sTRANSLATOR_LANG_it:
=
Strings
sTRANSLATOR_LANG_ja:
=
Strings
sTRANSLATOR_LANG_ko:
=
Strings
sTRANSLATOR_LANG_lt:
=
Strings
sTRANSLATOR_LANG_lv:
=
Strings
sTRANSLATOR_LANG_ms:
=
Strings
sTRANSLATOR_LANG_mt:
=
Strings
sTRANSLATOR_LANG_mww:
=
Strings
sTRANSLATOR_LANG_nb:
=
Strings
sTRANSLATOR_LANG_nl:
=
Strings
sTRANSLATOR_LANG_otq:
=
Strings
sTRANSLATOR_LANG_pl:
=
Strings
sTRANSLATOR_LANG_pt:
=
Strings
sTRANSLATOR_LANG_ro:
=
Strings
sTRANSLATOR_LANG_ru:
=
Strings
sTRANSLATOR_LANG_sk:
=
Strings
sTRANSLATOR_LANG_sl:
=
Strings
sTRANSLATOR_LANG_sr_latn:
=
Strings
sTRANSLATOR_LANG_sr_cyrl:
=
Strings
sTRANSLATOR_LANG_sv:
=
Strings
sTRANSLATOR_LANG_th:
=
Strings
sTRANSLATOR_LANG_tlh:
=
Strings
sTRANSLATOR_LANG_tr:
=
Strings
sTRANSLATOR_LANG_uk:
=
Strings
sTRANSLATOR_LANG_ur:
=
Strings
sTRANSLATOR_LANG_vi:
=
Strings
sTRANSLATOR_LANG_yua:
=
Strings
sTRANSLATOR_LANG_zh_hans:
=
Strings
sTRANSLATOR_LANG_zh_hant:
=
Strings
sTRANSLATOR_LANG_zh_latn:
=
Strings
sTRANSLATOR_DISCLOSURE:
=
Of course, we could miss something, but we are happy for any help in drawing up the complete list of changes, so if you know any details about this version, or have noticed a mistake leave a comment and we will complement or correct the information.