Skype

7.13.0.101

for Windows

1 comment

1 684 downloads

Was released a new version of

Skype for Windows

, which should bring joy to the users which are using the high DPI value (ie, scaling the text or increased font size). The point is that in the Skype 7.13.0.101 for Windows officially has added HiDPI support, which means that the Skype graphics and text will appear crystal clear, regardless of the font size of the operating system. Skype now support a range of screen resolutions, including 100%, 125%, 150% and 200%.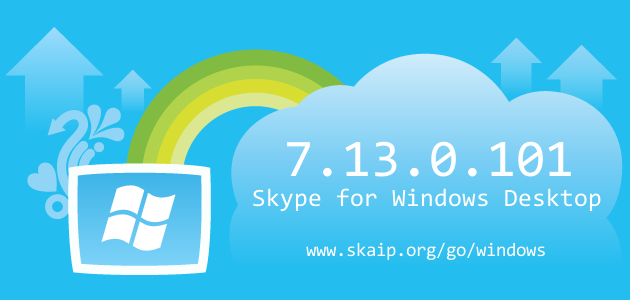 File size:
44.7 MB
Operating system:
Windows
Skype version:
7.13.0.101
Release date:
Total downloads:
1 684
Changelog
The following table contains the list of known changes in version Skype 7.13.0.101 for Windows. This will help you to find out what's new in Skype for Windows, which errors have been fixed, what work did developers, and a lot of other interesting things.
New
HiDPI support
Unresolved
Skype ignores the «Disable display scaling on high DPI settings» option
Strings
sMOVEMBER_SMILEY:
=
Strings
sOK_SMILEY:
=
Strings
sFISTBUMP_SMILEY:
=
Strings
sPRAYING_SMILEY:
=
Strings
sPOKE_SMILEY:
=
Strings
sVICTORY_SMILEY:
=
Strings
sHANDS_IN_AIR_SMILEY:
=
Strings
sMAN_SMILEY:
=
Strings
sWOMAN_SMILEY:
=
Strings
sGOTTARUN_SMILEY:
=
Strings
sSTOP_SMILEY:
=
Strings
sMONKEY_SMILEY:
=
Strings
sSNAIL_SMILEY:
=
Strings
sGOODLUCK_SMILEY:
=
Strings
sISLAND_SMILEY:
=
Strings
sUMBRELLA_SMILEY:
=
Strings
sRAINBOW_SMILEY:
=
Strings
sCANYOUTALK_SMILEY:
=
Strings
sCAMERA_SMILEY:
=
Strings
sPLANE_SMILEY:
=
Strings
sCAR_SMILEY:
=
Strings
sCOMPUTER_SMILEY:
=
Strings
sBRB_SMILEY:
=
Strings
sGAMES_SMILEY:
=
Strings
sGIFT_SMILEY:
=
Strings
sHOLDOn_SMILEY:
=
Strings
sLETSMEET_SMILEY:
=
Strings
sCONFIDENTIAL_SMILEY:
=
Strings
sBOMB_SMILEY:
=
Strings
sWHATSGOINGON_SMILEY:
=
Strings
sWIN10_SMILEY:
=
Strings
sLEARN_SMILEY:
=
Strings
sACCESS_SMILEY:
=
Strings
sBING_SMILEY:
=
Strings
sEXCEL_SMILEY:
=
Strings
sINTERNETEXPLORER_SMILEY:
=
Strings
sMICROSOFT_SMILEY:
=
Strings
sONEDRIVE_SMILEY:
=
Strings
sONENOTE_SMILEY:
=
Strings
sOUTLOOK_SMILEY:
=
Strings
sPOWERPOINT_SMILEY:
=
Strings
sPUBLISHER_SMILEY:
=
Strings
sSHAREPOINT_SMILEY:
=
Strings
sSKYPEBIZ_SMILEY:
=
Strings
sWORD_SMILEY:
=
Strings
sXBOX_SMILEY:
=
Of course, we could miss something, but we are happy for any help in drawing up the complete list of changes, so if you know any details about this version, or have noticed a mistake leave a comment and we will complement or correct the information.