Skype

7.15.0.102

for Windows

8 comments

23 599 downloads

For the third consecutive day, a new version of the program

Skype for Windows

is released. Nonetheless, today we are not talking about a minor release but a full version that brought a couple of interesting and useful features. One of them is the ability to send the file to a contact which is offline. Please note that for now non-photo files will now also be sent via the cloud. Recipients on older Skype versions will be sent to download file in browser (just like with the launch for cloud photo sharing).

Another changes of Skype 7.15.0.102 for Windows relate to the authorization process, group video messaging a primary colours of the interface became a little bit darker. However, major changes will be available to all users only in the following weeks.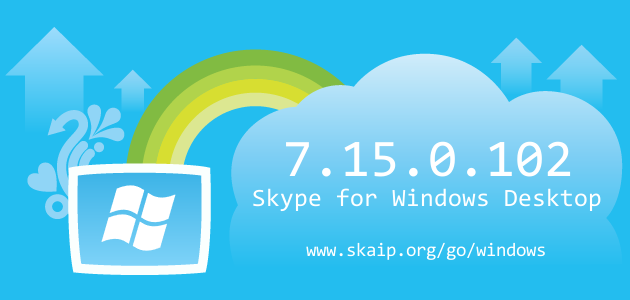 File size:
46.2 MB
Operating system:
Windows
Skype version:
7.15.0.102
Release date:
Total downloads:
23 599
Changelog
The following table contains the list of known changes in version Skype 7.15.0.102 for Windows. This will help you to find out what's new in Skype for Windows, which errors have been fixed, what work did developers, and a lot of other interesting things.
New
Non-photo files will now also be sent via the cloud
Improved
Improved authorization
Changed
Primary colours of the interface became darker
Strings
sZAPBUTTON_HEARTMARKON:
=
Strings
sZAPBUTTON_HEARTMARKOFF:
=
Strings
sZAPBUTTON_CONTINUELOGIN:
=
Strings
sZAPBUTTON_RETRYLOGIN:
=
Strings
sCALL_BTN_TOO_MANY_PARTICIPANTS_HINT:
= Select no more than %d participants to be able to start a call
=
Strings
sVIDEOCALL_BTN_TOO_MANY_PARTICIPANTS_HINT:
= Select no more than %d participants to be able to start a video call
=
Strings
sHINT_CREATENEWGROUP:
=
Strings
sCLOUD_FILETRANSFER_UPLOAD_FAILED_MALWARE:
=
Strings
sCLOUD_FILETRANSFER_UPLOAD_FAILED_NO_INTERNET:
= Not sent - Waiting for internet connection...
=
Strings
sCLOUD_FILETRANSFER_UPLOAD_FAILED_UNSAFE:
=
Strings
sCLOUD_FILETRANSFER_UPLOAD_SCANNING:
=
Strings
sCLOUD_FILETRANSFER_UPLOAD_SENT:
=
Strings
sCLOUD_FILETRANSFER_DOWNLOAD_FAILED_UNSAFE:
=
Strings
sCLOUD_FILETRANSFER_DOWNLOAD_FAILED_MALWARE:
=
Strings
sCLOUD_FILETRANSFER_DOWNLOAD_FAILED_NO_INTERNET:
=
Strings
sSSO_CONTINUE_AS:
=
Strings
sSSO_ANOTHER_ACCOUNT:
=
Strings
sSSO_NEXT_TOOLTIP:
=
Strings
sCLOUD_FILETRANSFER_CANCELLED:
=
Strings
sCLOUD_FILETRANSFER_LEARNMORE_INFO:
=
Strings
sCLOUD_FILETRANSFER_LEARNMORE_EXPIRED:
=
Strings
sCLOUD_FILETRANSFER_LEARNMORE:
=
Strings
sCLOUD_VIDEOMESSAGE_LEGACY:
=
Strings
sCLOUD_VIDEOMESSAGE_UPLOAD_FAILED:
=
Strings
sCLOUD_VIDEOMESSAGE_DOWNLOAD_FAILED:
=
Strings
sCLOUD_VIDEOMESSAGE_DOWNLOAD_FAILED_EXPIRED:
=
Strings
sCLOUD_VIDEOMESSAGE_LEARNMORE_INFO:
=
Strings
sCLOUD_VIDEOMESSAGE_LEARNMORE_EXPIRED:
=
Strings
sCONTACT_MOOD_ON_SKYPE:
=
Strings
sACC_NAME_VIDEO_MESSAGE_CANCEL:
=
Strings
sHEARTMARK_ME:
=
Strings
sHEARTMARK_OTHER:
=
Strings
sHEARTMARK_OTHERS:
=
Strings
sHEARTMARK_ME_AND_OTHER:
=
Strings
sHEARTMARK_ME_AND_OTHERS:
=
Strings
sLOGIN_ERROR_NO_INTERNET:
=
Strings
sLOGIN_ERROR_NO_INTERNET_LINE2:
=
Strings
sLOGIN_RETRY_BUTTON:
=
Strings
sNGC_UPDATE_SKYPE_MESSAGE_1:
=
Strings
sNGC_UPDATE_SKYPE_MESSAGE_2:
=
Strings
sNGC_UPDATE_SKYPE_MESSAGE_3:
=
Strings
sSEARCH_DISCOVERY_MESSAGE:
=
Strings
sNGC_UPDATE_SKYPE_MESSAGE:
=
Strings
sNGC_SS_UPDATE_SKYPE_MESSAGE:
=
Strings
sNGC_SS_UPDATE_SKYPE_MESSAGE_1:
=
Strings
sNGC_SS_UPDATE_SKYPE_MESSAGE_2:
=
Strings
sCLOUD_FILETRANSFER_UPLOAD_MULTI_FAILED_TOOBIG:
= Some files were not sent as they were larger than %s.
Strings
sCLOUD_FILETRANSFER_UPLOAD_FAILED_VIRUS:
= Not sent - Virus detected.
Strings
sCLOUD_FILETRANSFER_DOWNLOAD_FAILED_CANCELLED:
= Cancelled
Of course, we could miss something, but we are happy for any help in drawing up the complete list of changes, so if you know any details about this version, or have noticed a mistake leave a comment and we will complement or correct the information.