Skype

7.16.0.101

for Windows

No comments

1 085 downloads

After yesterday's minor release, today has released a new full version of

Skype for Windows

. It's true that for this time we do not know exactly what has changed in this version. The only thing that can be noticed — the renewed chat interface, which, in my opinion, becomes more compact and convenient. Now, the buttons to send messages, files, contacts,

emoticons

and video messages stay next to each other, below the input field. Also has been changed the input field, for which the surrounding frame was removed and a top border is used instead. I have not noticed other changes in Skype 7.16.0.101 for Windows but I'm sure they are just there.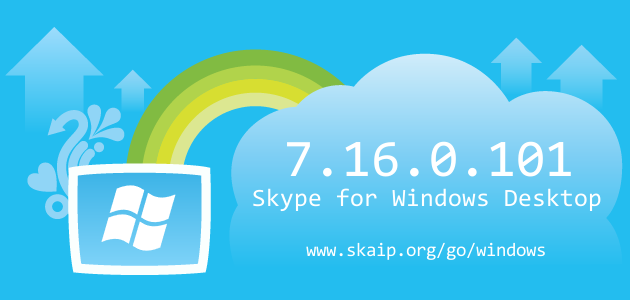 File size:
43.2 MB
Operating system:
Windows
Skype version:
7.16.0.101
Release date:
Total downloads:
1 085
Changelog
The following table contains the list of known changes in version Skype 7.16.0.101 for Windows. This will help you to find out what's new in Skype for Windows, which errors have been fixed, what work did developers, and a lot of other interesting things.
Changed
Renewed chat interface
Strings
sSSO_CONTINUE_AS:
= Continue as
=
Strings
sADD_PHONE_NUMBER_MESSAGE:
=
Strings
sCALL_RETRY_CALL_DROPPED:
=
Strings
sCALL_RETRY_CONNECT_FAILED:
=
Strings
sCALL_RETRY_CALLER_HANGS_UP_NO_VIDM:
=
Strings
sCALL_RETRY_CALLER_HANGS_UP_VIDM:
=
Strings
sACC_NAME_URL_PREVIEW_OPEN:
=
Strings
sURL_PREVIEW_OPEN:
=
Strings
sURL_PREVIEW_COPY_LINK:
=
Strings
sZAPBUTTON_CONTINUELOGIN:
= Continue
Strings
sSSO_NEXT_TOOLTIP:
= Continue
Of course, we could miss something, but we are happy for any help in drawing up the complete list of changes, so if you know any details about this version, or have noticed a mistake leave a comment and we will complement or correct the information.