Skype

7.21.0.100

for Windows

No comments

6 191 downloads

In a fantastic way

Skype for Windows

has been updated from 7.18 directly to 7.21, skipping 7.19 and 7.20 versions, which either I did not notice, or did not appear in the public release. I hope that soon I will be able to find out the answer to that question, and what has changed in this version. In the meantime, I invite you to download and install Skype 7.21.0.100 for Windows, and if you can find something new, please share it with us. Stay tune!

[UPD] 11 march 2016

— Today I learned more details about this release (in particular, at least 4 bugs have been fixed). Also should be noted that version 7.21.0.100 is a phased rollout release — instead of making 7.21 available to all new users downloading from skype.com, in phased rollout are sampling a % of both new and upgrading users. You only have 10% chance of getting 7.21 if you go to download from skype.com and automatic upgrading user sampling is at 4%.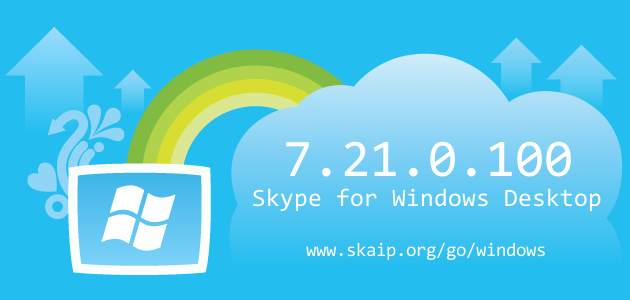 File size:
44.8 MB
Operating system:
Windows
Skype version:
7.21.0.100
Release date:
Total downloads:
6 191
Changelog
The following table contains the list of known changes in version Skype 7.21.0.100 for Windows. This will help you to find out what's new in Skype for Windows, which errors have been fixed, what work did developers, and a lot of other interesting things.
Fixed
Edited messages in P2P group chats appear only after restarting Skype
Fixed
«Skype Premium» prompt shown sometimes during group screen shares
Fixed
Crashes or freezes when copying and cropping content from the chat message edit field
Fixed
Various improvements to Moji and emoticon caching to prevent it from showing empty
Strings
sF_USERPROFILE_AGENT:
= Agent:
=
Strings
sSPRINGBOARD_AUTH_REQUEST:
=
Strings
sSPRINGBOARD_AUTH_REQUEST_NO_LOCATION:
=
Strings
sSPRINGBOARD_SEND_MESSAGE:
=
Strings
sCONTACT_MOOD_SKYPE:
=
Strings
sSC_CONNECTION_LOST_TITLE:
=
Strings
sSC_CONNECTION_LOST_DESCRIPTION:
=
Strings
sCHAT_JOINING_DISABLED:
=
Strings
sCHAT_JOINING_ENABLED:
=
Strings
sCHAT_HISTORY_CLOSED:
=
Strings
sCHAT_HISTORY_DISCLOSED:
=
Strings
sSTATUSMENU_CAPTION_AVAILABLE:
=
Strings
sSTATUSMENU_CAPTION_BUSY:
=
Strings
sSTATUSMENU_CAPTION_NOT_AVAILABLE:
=
Strings
sCHATMESSAGE_STATUS_SENDING:
=
Strings
sCHATMESSAGE_STATUS_SENT:
=
Strings
sCHATMESSAGE_STATUS_SEEN:
=
Strings
sF_SPACE_TOPIC_REMOVED:
=
Strings
sWARN_API_AUTHORIZATION:
=
Strings
sZAPBUTTON_TRANSFERCALL:
= Transfer this call
Strings
sZAPBUTTON_CALLTRANSFER:
= Call transfer
Strings
sZAPBUTTON_CALLTRANSFERSKYPE:
= Skype
Strings
sZAPBUTTON_CALLTRANSFERHOME:
= Home
Strings
sZAPBUTTON_CALLTRANSFERMOBILE:
= Mobile
Strings
sZAPBUTTON_CALLTRANSFEROFFICE:
= Office
Strings
sZAPBUTTON_CALLTRANSFEROTHER:
= Other
Of course, we could miss something, but we are happy for any help in drawing up the complete list of changes, so if you know any details about this version, or have noticed a mistake leave a comment and we will complement or correct the information.