Skype

7.21.0.358

for Android

A new version of

Skype for Android

has been released, which can be updated from the Play Store or

downloaded

from our blog. As for changes in the Skype 7.21.0.358 for Android, please see the "Changelog" below.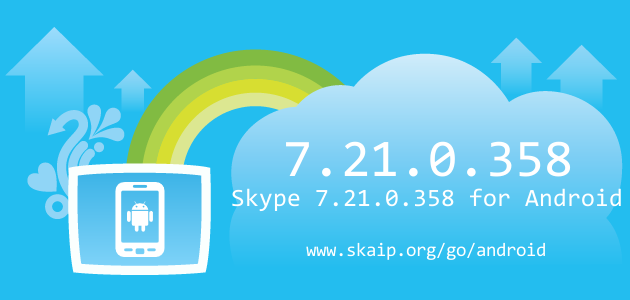 File size:
38.3 MB
Operating system:
Android
Skype version:
7.21.0.358
Release date:
Total downloads:
15
Changelog
The following table contains the list of known changes in version Skype 7.21.0.358 for Android. This will help you to find out what's new in Skype for Android, which errors have been fixed, what work did developers, and a lot of other interesting things.
Improved
Performance and stability improvements
Strings
action_swift_card_open_url:
= Click to open website in your browswer
=
Strings
dialog_streaming_media_consent:
=
Strings
header_media_playback:
=
Strings
key_autoplay_preference:
=
Strings
key_autoplay_setting:
=
Strings
key_category_media_playback:
=
Strings
key_third_party_consent_preference:
=
Strings
key_third_party_media_streaming_consent:
=
Strings
label_autoplay_incoming_videos:
=
Strings
label_autoplay_incoming_videos_always:
=
Strings
label_autoplay_incoming_videos_never:
=
Strings
label_autoplay_incoming_videos_wifi:
=
Strings
label_play_streamed_media_from_3rd_party:
=
Strings
label_streaming_media_consent:
=
Strings
text_promote_calling_outgoing_contact_request:
= Place a call while your contact request is pending
=
Strings
text_promote_messaging_outgoing_contact_request_granted:
= Say hi to your new contact and send them a message
=
Of course, we could miss something, but we are happy for any help in drawing up the complete list of changes, so if you know any details about this version, or have noticed a mistake leave a comment and we will complement or correct the information.