Skype

7.22.0.104

for Windows

No comments

777 downloads

The new version of

Skype for Windows

has been released, and first of all it should be noted that has been fixed the duplicating custom contact lists bug, and has removed advertisement banners which uses flash technology (this means that among other things, there no longer will occur the Adobe Flash Player error: "# 2060 Security Sandbox violation").

But Skype 7.22.0.104 for Windows has another new change that all users for certain will notice: in this release for a little has been changed the colour scheme of search window, toolbar, last conversations, notifications and chat messages.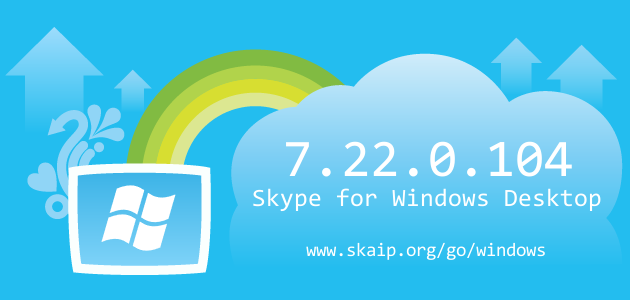 File size:
45.2 MB
Operating system:
Windows
Skype version:
7.22.0.104
Release date:
Total downloads:
777
Changelog
The following table contains the list of known changes in version Skype 7.22.0.104 for Windows. This will help you to find out what's new in Skype for Windows, which errors have been fixed, what work did developers, and a lot of other interesting things.
Fixed
Duplicated custom contact lists
Unresolved
Deleted flash ads
Changed
Changed the colour scheme
Strings
sF_SPLASH_COPYRIGHT1:
= © 2015 Skype and/or Microsoft
=
Strings
sF_ABOUT_COPYRIGHT_1_1:
= © 2015 Skype and/or Microsoft
=
Strings
sZAPBUTTON_FULLSCREENEXIT:
= Exit fullscreen
=
Strings
sZAPBUTTON_INSTALLHOLOYES:
=
Strings
sZAPBUTTON_INSTALLHOLONO:
=
Strings
sVIDEO_EXIT_FULLSCREEN_CAPTION:
= Exit fullscreen
=
Strings
sLIVE_B_FULLSCREENEXIT:
= Exit fullscreen
=
Strings
sAPP_TOOLBAR_AGENTS:
= Add agents...
=
Strings
sAPP_TOOLBAR_AGENTS_HINT:
= Add agents...
=
Strings
sAGENTS_FAILED_TO_DOWNLOAD_LIST:
= Failed to download a list of agents. Please try again later.
=
Strings
sAGENTS_EMPTY_LIST:
= No agents which could be added to your contacts were found.
=
Strings
sACC_AGENTS_LIST_ACC_NAME:
= List of available agents
=
Strings
sMAINMENU_INSTALL_HOLO:
=
Strings
sHOLO_UPSELL:
=
Strings
sINSTALL_HOLO_FORM_CAPTION:
=
Strings
sINSTALL_HOLO_NORMAL_CAPTION:
=
Strings
sINSTALL_HOLO_NORMAL_TEXT1:
=
Strings
sINSTALL_HOLO_NORMAL_TEXT2:
=
Strings
sINSTALL_HOLO_DOWNLOAD_CAPTION:
=
Strings
sINSTALL_HOLO_DOWNLOAD_TEXT:
=
Strings
sINSTALL_HOLO_PAUSED:
=
Strings
sINSTALL_HOLO_INIT:
=
Strings
sINSTALL_HOLO_FAILED_CAPTION:
=
Strings
sINSTALL_HOLO_FAILED_TEXT1:
=
Strings
sINSTALL_HOLO_FAILED_TEXT2:
=
Strings
sINSTALL_HOLO_FAILED_LINK:
=
Strings
sINSTALL_HOLO_READY_CAPTION:
=
Strings
sINSTALL_HOLO_READY_TEXT1:
=
Strings
sINSTALL_HOLO_INSTALL:
=
Strings
sINSTALL_HOLO_FAILED:
=
Strings
sTRANSLATOR_LANG_ja_jpan:
=
Strings
sTRANSLATOR_LANG_ja_latn:
=
Strings
sTRANSLATOR_LANG_sw:
=
Strings
sAUDIO_TOKEN_NO_SOUND_LOCAL:
=
Strings
sAUDIO_TOKEN_NO_SOUND_REMOTE:
=
Strings
sAUDIO_TOKEN_ECHO:
=
Strings
sAUDIO_TOKEN_NOISE:
=
Strings
sAUDIO_TOKEN_LOW_SOUND:
=
Strings
sAUDIO_TOKEN_DROPPED:
=
Strings
sAUDIO_TOKEN_DISTORTED:
=
Strings
sAUDIO_TOKEN_INTERRUPTED:
=
Strings
sAUDIO_TOKEN_OTHER:
=
Strings
sVIDEO_TOKEN_NO_VIDEO_LOCAL:
=
Strings
sVIDEO_TOKEN_NO_VIDEO_REMOTE:
=
Strings
sVIDEO_TOKEN_LOW_QUALITY:
=
Strings
sVIDEO_TOKEN_FREEZING:
=
Strings
sVIDEO_TOKEN_STOPPED_UNEXPECTEDLY:
=
Strings
sVIDEO_TOKEN_OTHER_SIDE_TOO_DARK:
=
Strings
sVIDEO_TOKEN_NO_AUDIO_SYNC:
=
Strings
sVIDEO_TOKEN_OTHER:
=
Strings
sBOT_PREDEFINED_CAPABILITIES:
=
Strings
sBOT_SEARCH_PROMPT:
=
Strings
sBOT_CAPABILITIES_LABEL:
=
Strings
sBOT_PRIVACY_LABEL:
=
Strings
sBOT_ID_LABEL:
=
Strings
sBOT_CREATED_BY:
=
Strings
sBOT_PREDEFINED_CAPABILITIES_ONEWAY:
=
Strings
sBOT_PROFILE_PRIVACY_NEW:
=
Strings
sBOT_ADDED_TO_GROUP_PRIVACY:
=
Strings
sBOT_PRESENT_IN_GROUP_PRIVACY:
=
Strings
sZAPBUTTON_HEARTMARKNEW:
= New
Strings
sF_USERPROFILE_AGENT:
= Agent
Of course, we could miss something, but we are happy for any help in drawing up the complete list of changes, so if you know any details about this version, or have noticed a mistake leave a comment and we will complement or correct the information.