Skype

7.23.0.104

for Windows

No comments

1 421 downloads

Has been released a new version of

Skype for Windows

at number 7.23.0.104. Unfortunately, no information about this release have not been published either on the official website, or anywhere else. But judging by the new string lines added to Skype, it seems will soon release a new version of Skype, as I understand, we are talking about on Skype for UWP (Universal Windows Platform). Also, Skype 7.23.0.104 for Windows displays tips how to fix authorization and launching errors (in particular, about how to configure Internet Explorer so that Skype works without problems).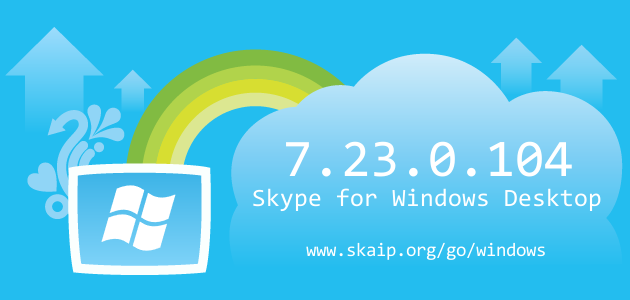 File size:
43.1 MB
Operating system:
Windows
Skype version:
7.23.0.104
Release date:
Total downloads:
1 421
Changelog
The following table contains the list of known changes in version Skype 7.23.0.104 for Windows. This will help you to find out what's new in Skype for Windows, which errors have been fixed, what work did developers, and a lot of other interesting things.
Unresolved
Sometimes cloud emoticons are not shown
Strings
sZAPBUTTON_COEXPROMOYES:
=
Strings
sZAPBUTTON_COEXPROMONO:
=
Strings
sMYSELF_CAPTURE_HINT_SLIDER:
= Slider
=
Strings
sFILE_TRANSFER_ACCEPT_CAPTION:
=
Strings
sFILE_TRANSFER_TRUST:
=
Strings
sFILE_TRANSFER_DETAILS:
=
Strings
sFILE_TRANSFER_UNSAFE_WARNING:
=
Strings
sFILE_TRANSFER_ACCEPT_BUTTON:
=
Strings
sFILE_TRANSFER_CANCEL_BUTTON:
=
Strings
sFILE_TRANSFER_DONT_ASK:
=
Strings
sNGC_UPDATE_SKYPE_MESSAGE_EX_1:
=
Strings
sNGC_UPDATE_SKYPE_MESSAGE_EX_2:
=
Strings
sNGC_UPDATE_SKYPE_MESSAGE_EX_3:
=
Strings
sCLOUD_FILETRANSFER_UPLOAD_FAILED_TOOBIG_EX:
=
Strings
sDISCOVERABILITY_TAB_INTRO:
=
Strings
sLOGIN_ERROR_LEARN_MORE:
=
Strings
sLOGIN_ERROR_RETRY:
=
Strings
sLOGIN_ERROR_OOPS:
=
Strings
sLOGIN_ERROR_AD:
=
Strings
sLOGIN_ERROR_IE_SETTINGS:
=
Strings
sLOGIN_ERROR_IE_VERSION:
=
Strings
sBOT_PROFILE_PRIVACY_LINK_LABEL:
=
Strings
sBOT_PROFILE_TOS_LINK_LABEL:
=
Strings
sCOEX_PROMO_HEADER:
=
Strings
sCOEX_PROMO_PARA_1:
=
Strings
sCOEX_PROMO_PARA_2:
=
Strings
sCOEX_PROMO_PARA_3:
=
Strings
sCOEX_PROMO_CHECKBOX:
=
Strings
sCOEX_FEEDBACK_HEADER:
=
Strings
sCOEX_FEEDBACK_RADIO1:
=
Strings
sCOEX_FEEDBACK_RADIO2:
=
Strings
sCOEX_FEEDBACK_RADIO3:
=
Strings
sCOEX_FEEDBACK_RADIO4:
=
Strings
sCOEX_FEEDBACK_ADDITIONAL:
=
Strings
sCOEX_FEEDBACK_LINKS:
=
Strings
sACC_NAME_COEX_FEEDBACK_TEXT:
=
Strings
sCOEX_PROMO_HEADER_2:
=
Strings
sCOEX_PROMO_PARA_1_2:
=
Strings
sCOEX_PROMO_PARA_2_2:
=
Of course, we could miss something, but we are happy for any help in drawing up the complete list of changes, so if you know any details about this version, or have noticed a mistake leave a comment and we will complement or correct the information.