Skype

7.27.0.101

for Windows

5 comments

5 362 downloads

A new version of

Skype for Windows

is available for

download

. In this release has been updated the Skype core library and it seems this might potentially fix the bug due to which instead of making group calls Skype creates new groups with random name like

(?) 12345678 #username/$2;0

.

Also, Skype 7.27.0.101 for Windows adds some improvements to Skype Windows Desktop and Preview App coexistence, including a fix to stop users from seeing promo screen repeatedly. Should be noted that developers are soon going to enable a screen that is shown when starting classic windows app on Windows 10 to remind them of the Preview app. This screen asks to supply feedback on why users are reverting to the classic app after having used the preview app. This will help the preview app prioritize the most requested features.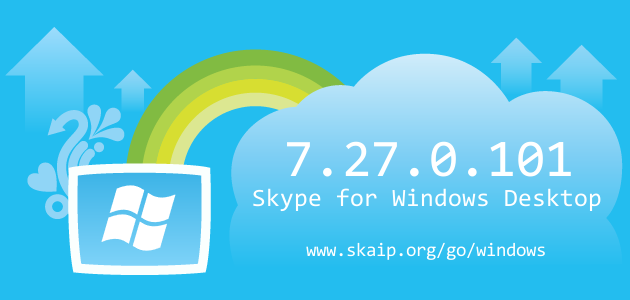 File size:
39.7 MB
Operating system:
Windows
Skype version:
7.27.0.101
Release date:
Total downloads:
5 362
Changelog
The following table contains the list of known changes in version Skype 7.27.0.101 for Windows. This will help you to find out what's new in Skype for Windows, which errors have been fixed, what work did developers, and a lot of other interesting things.
Changed
Updated Skype core library
Fixed
Potentially fixed the making group calls bug
Improved
Improved the Skype Windows Desktop and Preview App coexistence
Strings
sCOEX_PROMO_HEADER:
= Say hello to the new Skype
=
Strings
sCOEX_PROMO_PARA_1:
= We're getting the next version of Skype for Windows ready and we'd like you to give it a try today.
=
Strings
sCOEX_PROMO_PARA_2:
= Use the smiley feedback button to let us know what you think, what you love or even what you'd most like to see next.
=
Strings
sCOEX_PROMO_PARA_1_2:
= We hope you've enjoyed using the Skype Preview app. We update and improve Skype using the valuable feedback we get from everyone trying the Preview.
=
Strings
sCOEX_PROMO_PARA_2_2:
= In future, jump right in by launching 'Skype Preview app' from the Windows Start button.
=
Strings
sOPTIONS_CHAT_THEME:
= Theme
=
Strings
sCHAT_RETIRED_INTERNAL_ERROR:
=
Strings
sNOTIFICATION_NO_NETWORK:
=
Strings
sNOTIFICATION_DISCONNECTED:
=
Strings
sNOTIFICATION_CONNECTING:
=
Strings
sNOTIFICATION_CONNECTED:
=
Strings
sNOTIFICATION_UPDATING:
=
Strings
sNOTIFICATION_BOGUS_ADDRESS:
=
Strings
sNOTIFICATION_CONNECTION_ERROR:
=
Strings
sVIDMESG_UNAVAILABLE:
=
Strings
sMAINMENU_TOOLS_THEME:
=
Strings
sLIGHT_THEME_NAME:
=
Strings
sDARK_THEME_NAME:
=
Strings
sCHATFLOW_RETIRED_INTERNAL_ERROR:
= %s could not be added to this chat, <a href='retry_add'>retry</a>
Of course, we could miss something, but we are happy for any help in drawing up the complete list of changes, so if you know any details about this version, or have noticed a mistake leave a comment and we will complement or correct the information.