Skype

7.28.0.301

for Android

A new version of

Skype for Android

has been released, which can be updated from the Play Store or

downloaded

from our blog. As for changes in the Skype 7.28.0.301 for Android, about them nothing is yet known.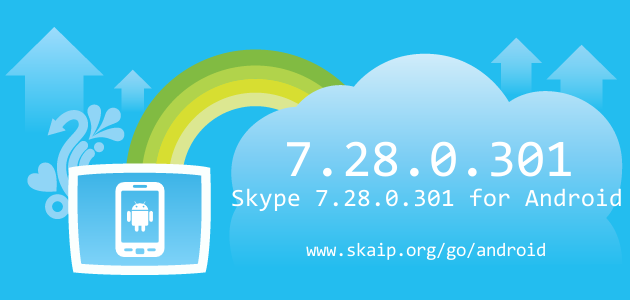 File size:
38.4 MB
Operating system:
Android
Skype version:
7.28.0.301
Release date:
Total downloads:
17
Technical information
Operating systems: Android 4.0.3 Ice Cream Sandwich, Android 4.0.4 Ice Cream Sandwich, Android 4.1 Jelly Bean, Android 4.1.1 Jelly Bean, Android 4.1.2 Jelly Bean, Android 4.2 Jelly Bean, Android 4.2.1 Jelly Bean, Android 4.2.2 Jelly Bean, Android 4.3 Jelly Bean, Android 4.4 KitKat, Android 4.4.1 KitKat, Android 4.4.2 KitKat, Android 4.4.3 KitKat, Android 4.4.4 KitKat, Android 5.0 Lollipop, Android 5.0.1 Lollipop, Android 5.0.2 Lollipop, Android 5.1 Lollipop, Android 5.1.1 Lollipop, Android 6.0 Marshmallow, Android 6.0.1 Marshmallow, Android 7.0 Nougat, Android 7.1 Nougat
Devices: Tablets, smartphones, and other devices running the Android OS, including Acer Iconia A1-830, Acer Iconia One, Acer Iconia Tab, Acer Iconia Talk, Acer Predator 8, Allview AX4 Nano, Allview AX501Q, Allview Viva C701, Allview Viva H1001, Amazon Fire 7, Amazon Fire HD, Amazon Kindle Fire, Archos Diamond Tab, Asus Fonepad, Asus Fonepad 7, Asus Fonepad 8, Asus Google Nexus, Asus Memo Pad, Asus Transformer Book, Asus Transformer Pad,

Asus Zenfone 2, Asus Zenfone 3, Asus Zenfone 4, Asus Zenfone 5, Asus Zenfone 6, Asus Zenfone C, Asus Zenfone Go, Asus Zenfone Max, Asus Zenfone Selfie, Asus Zenpad 10, Asus Zenpad 3, Asus Zenpad 3S, Asus Zenpad 3s, Asus Zenpad 7.0, Asus Zenpad 8.0, Asus Zenpad C, Asus Zenpad S, Asus Zenpad Z10, Asus Zenpad Z8, Asus Zenpad Z8s, BLU Studio 7.0, BLU Touch Book, BLU Touchbook G7, BLU Touchbook M7, BQ Aquaris M10, BlackBerry Priv, Celkon CT 1, Dell Venue 10, Dell Venue 7, Dell Venue 8, Google Pixel, Google Pixel C, Google Pixel XL, HP 10 Plus, HP 7 Plus, HP 8, HP Pro Slate, HP Slate 17, HP Slate 7, HP Slate10 HD, HP Slate7 Extreme, HP Slate7 Plus, HP Slate8 Pro, HTC 10, HTC Butterfly, HTC DROID DNA, HTC Desire 10, HTC Desire 12, HTC Desire 626, HTC Desire 816, HTC Desire 820, HTC Desire C, HTC Desire Eye, HTC Desire X, HTC Nexus 9, HTC One, HTC One A9, HTC One M9, HTC One Max, HTC One S, HTC One V, HTC One X, HTC One X+, HTC One mini, Huawei Ascend Mate7, Huawei Ascend P1, Huawei Ascend P6, Huawei Ascend P7, Huawei Ascend Y300, Huawei Ascend Y511, Huawei Honor 3C, Huawei Honor 4C, Huawei Honor 4X, Huawei Honor 5X, Huawei Honor 6, Huawei Honor 6X, Huawei Honor 7, Huawei Honor 7X, Huawei Honor 8, Huawei Honor 9, Huawei Honor Pad, Huawei Mate 10, Huawei Mate 8, Huawei Mate 9, Huawei MediaPad 10, Huawei MediaPad 7, Huawei MediaPad M1, Huawei MediaPad M2, Huawei MediaPad M3, Huawei MediaPad T1, Huawei MediaPad T2, Huawei MediaPad T3, Huawei MediaPad X1, Huawei MediaPad X2, Huawei Nexus 6P, Huawei P10, Huawei P10 Lite, Huawei P8, Huawei P8lite, Huawei P9, Huawei P9 lite, Huawei Y3II, Huawei Y5, Huawei Y5II, Huawei Y6, Huawei Y6 Pro, Huawei Y7 Prime, Huawei nova 2, Icemobile G8, Icemobile G8 LTE, Karbonn A37, Karbonn Smart Tab, Karbonn Smart Tab2, LG G Flex, LG G Pad, LG G Pro, LG G2, LG G3, LG G3 Stylus, LG G4, LG G5, LG G6, LG K10, LG Nexus 4, LG Nexus 5, LG Nexus 5X, LG Optimus 4X, LG Optimus G, LG Optimus L7, LG Optimus L9, LG Optimus Vu, LG V10, LG V20, Lava Iris 505, Lenovo A10-70 A7600, Lenovo A1000, Lenovo A2010, Lenovo A319, Lenovo A369i, Lenovo A390, Lenovo A516, Lenovo A536, Lenovo A6000, Lenovo A6000 Plus, Lenovo A7-30 A3300, Lenovo A7-50 A3500, Lenovo A7000, Lenovo A706, Lenovo A8-50 A5500, Lenovo A850, Lenovo IdeaTab A1000, Lenovo IdeaTab A2107, Lenovo IdeaTab A3000, Lenovo IdeaTab S6000, Lenovo IdeaTab S6000F, Lenovo IdeaTab S6000H, Lenovo IdeaTab S6000L, Lenovo K5, Lenovo K6 Note, Lenovo K6 Power, Lenovo K900, Lenovo P2, Lenovo P770, Lenovo P780, Lenovo S5000, Lenovo S650, Lenovo S850, Lenovo S890, Lenovo S920, Lenovo S930, Lenovo Tab 2, Lenovo Tab 4, Lenovo Tab 7, Lenovo Tab S8, Lenovo Tab3 10, Lenovo Tab3 7, Lenovo Tab3 8, Lenovo Vibe C, Lenovo Vibe K4, Lenovo Vibe K5, Lenovo Vibe P1m, Lenovo Vibe X, Lenovo Vibe X2, Lenovo Yoga Tab, Lenovo Yoga Tablet, Lenovo moto tab, Maxwest Tab Phone, Meizu M6s, Micromax Canvas Tab, Micromax Funbook Alfa, Micromax Funbook Infinity, Micromax Funbook P300, Micromax Funbook Pro, Motorola ATRIX 2, Motorola ATRIX 4G, Motorola DROID 3, Motorola DROID Maxx, Motorola DROID RAZR, Motorola DROID Turbo, Motorola DROID Ultra, Motorola Droid Turbo, Motorola Moto E, Motorola Moto G, Motorola Moto G4, Motorola Moto G5, Motorola Moto G5S, Motorola Moto M, Motorola Moto X, Motorola Moto X4, Motorola Moto Z, Motorola Nexus 6, Motorola Photon 4G, Motorola RAZR XT910, Motorola XOOM 2, Motorola XOOM MZ600, Motorola XOOM MZ601, Motorola XOOM MZ604, Nokia 3, Nokia N1, Nokia X, Nokia X2 Dual, Nokia XL, Nvidia Shield, Nvidia Shield K1, Nvidia Shield LTE, OnePlus 2, OnePlus 3, OnePlus 3T, OnePlus One, OnePlus X, Oppo A1, Oppo A37, Oppo A57, Oppo A71, Oppo A83, Oppo F1, Oppo F1 Plus, Oppo F1s, Oppo F3, Oppo Find, Oppo Find 5, Oppo Find 7, Oppo Joy 3, Oppo Mirror 5, Oppo N1, Oppo Neo 3, Oppo Neo 5, Oppo Neo 7, Oppo R1 R829T, Oppo R1001 Joy, Oppo R2001 Yoyo, Oppo R5, Oppo R821T FInd, Panasonic Eluga I7, Plum Optimax 10, Plum Optimax 11, Plum Optimax 12, Plum Optimax 2, Plum Optimax 7.0, Plum Optimax 8.0, Prestigio MultiPad 7.0, Prestigio Multipad 4, QMobile QTab V10, Samsung Galaxy A3, Samsung Galaxy A5, Samsung Galaxy A7, Samsung Galaxy A8, Samsung Galaxy A9, Samsung Galaxy Ace, Samsung Galaxy Alpha, Samsung Galaxy C5, Samsung Galaxy C7, Samsung Galaxy C9, Samsung Galaxy Camera, Samsung Galaxy Chat, Samsung Galaxy Core, Samsung Galaxy E5, Samsung Galaxy E7, Samsung Galaxy Fame, Samsung Galaxy Grand, Samsung Galaxy J, Samsung Galaxy J1, Samsung Galaxy J2, Samsung Galaxy J3, Samsung Galaxy J5, Samsung Galaxy J7, Samsung Galaxy Mega, Samsung Galaxy Nexus, Samsung Galaxy Note, Samsung Galaxy Note5, Samsung Galaxy Note7, Samsung Galaxy On5, Samsung Galaxy On7, Samsung Galaxy Pocket, Samsung Galaxy S, Samsung Galaxy S4, Samsung Galaxy S5, Samsung Galaxy S6, Samsung Galaxy S7, Samsung Galaxy S8, Samsung Galaxy S8+, Samsung Galaxy Star, Samsung Galaxy Tab, Samsung Galaxy Trend, Samsung Galaxy V, Samsung Galaxy View, Samsung Galaxy Win, Samsung Galaxy Young, Samsung Google Nexus, Samsung I8190 Galaxy, Samsung I8530 Galaxy, Samsung I9070 Galaxy, Samsung I9100 Galaxy, Samsung I9100G Galaxy, Samsung I9105 Galaxy, Samsung I9190 Galaxy, Samsung I9295 Galaxy, Samsung I9300 Galaxy, Samsung I9300I Galaxy, Samsung I9305 Galaxy, Samsung I9500 Galaxy, Samsung I9505 Galaxy, Samsung I9506 Galaxy, Samsung P6200 Galaxy, Samsung P6210 Galaxy, Sharp Aquos Crystal, Sony Ericsson Xperia, Sony Tablet S, Sony Xperia C, Sony Xperia C3, Sony Xperia C5, Sony Xperia E, Sony Xperia E1, Sony Xperia E3, Sony Xperia J, Sony Xperia L, Sony Xperia M, Sony Xperia M2, Sony Xperia M4, Sony Xperia M5, Sony Xperia P, Sony Xperia S, Sony Xperia SL, Sony Xperia SP, Sony Xperia T, Sony Xperia T2, Sony Xperia TX, Sony Xperia Tablet, Sony Xperia V, Sony Xperia X, Sony Xperia XA, Sony Xperia XA1, Sony Xperia XZ, Sony Xperia Z, Sony Xperia Z1, Sony Xperia Z2, Sony Xperia Z3, Sony Xperia Z3+, Sony Xperia Z4, Sony Xperia Z5, Sony Xperia ZL, Sony Xperia ZR, Sony Xperia acro, Sony Xperia go, Sony Xperia ion, Sony Xperia neo, Sony Xperia tipo, Toshiba Excite 10, Toshiba Excite Go, Toshiba Excite Pro, Toshiba Excite Pure, Toshiba Excite Write, Vodafone Smart Tab, Vodafone Tab Prime, XOLO Play Tegra, Xiaomi Mi 2, Xiaomi Mi 2A, Xiaomi Mi 2S, Xiaomi Mi 3, Xiaomi Mi 4, Xiaomi Mi 4c, Xiaomi Mi 4i, Xiaomi Mi 5, Xiaomi Mi 5s, Xiaomi Mi Max, Xiaomi Mi Mix, Xiaomi Mi Note, Xiaomi Mi Pad, Xiaomi Redmi, Xiaomi Redmi 1S, Xiaomi Redmi 2, Xiaomi Redmi 3, Xiaomi Redmi 3s, Xiaomi Redmi 4, Xiaomi Redmi 4A, Xiaomi Redmi Note, alcatel One Touch, alcatel POP 10, alcatel POP 7, alcatel Pixi 3, alcatel Pixi 4, alcatel Pixi 7, verykool Kolorpad LTE, verykool T7440 Kolorpad, verykool T7445, vivo V5, vivo Y11, vivo Y15, vivo Y22, vivo Y28, vivo Y51, vivo Y53, vivo Y69

.
File format:

application/apk

File name: skype_7.28.0.301.apk
Installer: com.skype.raider_7.28.0.301.apk
MD5: 503441C7BBEF918CBC69DC9ABD3D9468
CRC32: 112DB71B
Changelog
Unfortunately, about Skype 7.28.0.301 for Android nothing is known. So if you know any details about this release, please help us to describe the list of changes.