Skype

7.33.206

for Mac OS X

No comments

283 downloads

The application

Skype for Mac OS X

has been updated to the new version, in which, thanks to the persistent requests of users, developers returned volume controls built into the application, thus allowing you to control the sound volume directly from the Skype.

In addition, Skype 7.33.206 for Mac OS X improves the accessibility mode, in particular, the VoiceOver feature built into Mac OS X reads more appropriate descriptions of the user interface. Also, it makes it easier to add new participants during the call and assign your favourite

emoticons

. And the latest known thing, in the new version has been added support of content

formatting

for

Skype bots

cards.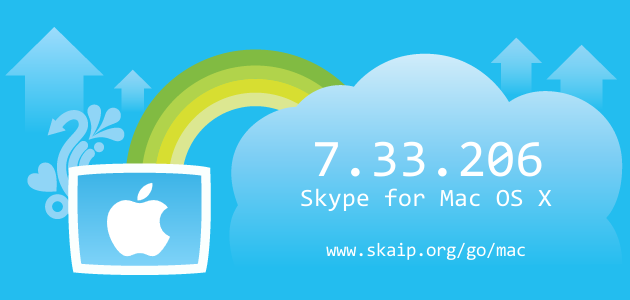 File size:
44.2 MB
Operating system:
Mac OS X
Skype version:
7.33.206
Release date:
Total downloads:
283
Changelog
The following table contains the list of known changes in version Skype 7.33.206 for Mac OS X. This will help you to find out what's new in Skype for Mac OS X, which errors have been fixed, what work did developers, and a lot of other interesting things.
Tuned
Built-in volume controls
Improved
Accessibility improvements
Improved
More convenient way to add new members to the group call
Improved
Is easier to assign your favourite emoticons
Improved
Support of content formatting for Skype bots cards
Strings
List_Separator_And:
= %1$@ and <b>%2$@</b>
=
Strings
ContactPicker_SelectedCell_VOHelp:
=
Strings
ContactPicker_SelectedCell_VODescription:
=
Strings
EmoticonPicker_EmoticonAccessibilityHelpTag_VideoEmoticon:
=
Strings
EmoticonPicker_EmoticonAccessibilityHelpTag_Emoticon:
=
Strings
SwiftCardMessage_ReceiptShowAllPurchasedItemsButtonTitle:
=
Strings
SwiftCardMessage_ReceiptShowLessPurchasedItemsButtonTitle:
=
Strings
Contact_Picker_Contacts_IdentityButton_VODescription:
=
Strings
Contact_Picker_Contacts_IdentityButton_One_VOHelp:
=
Strings
Contact_Picker_Contacts_IdentityButton_Many_VOHelp:
=
Strings
UnansweredCall_NoAnswer:
= No Answer
=
Strings
HangupConfirm_Text1:
=
Strings
HangupConfirm_Text2:
=
Strings
HangupConfirm_Cancel:
=
Strings
HangupConfirm_Leave:
=
Of course, we could miss something, but we are happy for any help in drawing up the complete list of changes, so if you know any details about this version, or have noticed a mistake leave a comment and we will complement or correct the information.