Skype

7.50.461

for Mac OS X

No comments

198 downloads

Now in

Skype for Mac OS X

has become easier to share photos, videos, links, and other things that you need to send to your friends. Point is that Skype 7.50.461 for Mac OS X adds supports of the Share Menu in the Finder and in other Mac apps. To enable this function, open

Apple menu → System Preferences → Extensions → Share Menu

and check the box for "Skype" option.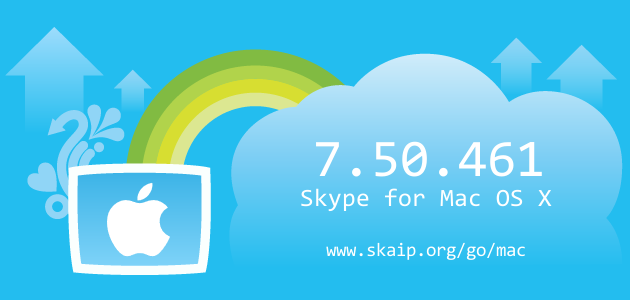 File size:
45.5 MB
Operating system:
Mac OS X
Skype version:
7.50.461
Release date:
Total downloads:
198
Changelog
The following table contains the list of known changes in version Skype 7.50.461 for Mac OS X. This will help you to find out what's new in Skype for Mac OS X, which errors have been fixed, what work did developers, and a lot of other interesting things.
New
Support for Share Menu
Strings
WelcomePageTitle_SummaryPage:
= So, what else is new?
=
Strings
WelcomePageTitle_SummaryPage_ShareExtension:
=
Strings
WelcomePageTitle_SummaryPage_ShareExtension_Description:
=
Strings
BotMessage_PrivacyStatement:
= This bot will have access to your Display Name, Skype Name, and any chat messages or content that you or other group participants share with it
=
Strings
Capability_ScreenShare:
= share screens
=
Strings
WelcomePageTitle_SummaryPage_Performance:
= Performance enhancements
Strings
WelcomePageTitle_SummaryPage_Performance_Description:
= This is our fastest and most reliable version of Skype yet.
Strings
WelcomePageTitle_SummaryPage_InputField:
= Improved input field
Strings
WelcomePageTitle_SummaryPage_InputField_Description:
= It's now even easier to drop files, emoticons and much more into your conversations.
Strings
WelcomePageTitle_SummaryPage_LinkSharing:
= Better link sharing
Strings
WelcomePageTitle_SummaryPage_LinkSharing_Description:
= New website previews mean no more dull web links.
Strings
ChatMessageStatus_Read:
= Read
Of course, we could miss something, but we are happy for any help in drawing up the complete list of changes, so if you know any details about this version, or have noticed a mistake leave a comment and we will complement or correct the information.