Skype

8.61.0.77

for Mac OS X

The

Skype for Mac

application is now available for download from the official site. Also, you can

download

the new version from our blog. At the moment nothing is known, what exactly has changed in Skype 8.61.0.77 for Mac OS X.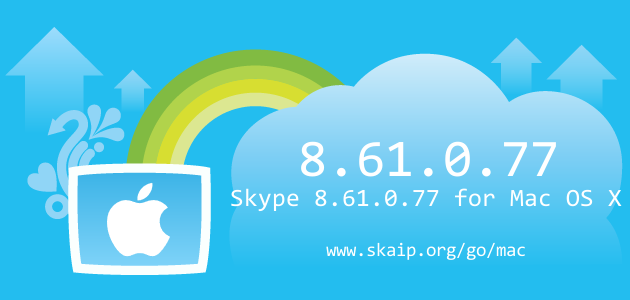 File size:
102.9 MB
Operating system:
Mac OS X
Skype version:
8.61.0.77
Release date:
Total downloads:
30
Changelog
The following table contains the list of known changes in version Skype 8.61.0.77 for Mac OS X. This will help you to find out what's new in Skype for Mac OS X, which errors have been fixed, what work did developers, and a lot of other interesting things.
Strings
MeetNowCallControls_StartRecording:
=
Strings
MeetNowCallControls_StopRecording:
=
Strings
MeetNowCallControls_ShareCallLink:
=
Strings
MeetNowCallControls_ReactionBarDrawerTitle:
=
Strings
MeetNowCallControls_CallButtonStopScreenShareControlFromViewer:
=
Strings
MeetNowCallControls_StopShareScreen:
=
Strings
CallControls_RemovedFromCallMessage:
=
Strings
CallControls_RemovedFromCallMessageWithName:
=
Strings
CallControls_ScreenShareControlRequesting:
=
Strings
CallControlsOverFlowMenu_EnableBackgroundBlur:
=
Strings
GroupProfilePanel_ModeratedGroup:
=
Strings
LocalNotificationChatCategory_MarkAsRead:
=
Strings
MeetNow_LobbyCreatorInviteTitleV1Uppercase:
=
Strings
MeetNow_LobbyCreatorInviteViaEmailTitleV1Uppercase:
=
Strings
MeetNow_LobbyCreatorInviteViaSocialTitleV1Uppercase:
=
Strings
MeetNow_LobbyCreatorGoToMeetingTitleV1Uppercase:
=
Strings
MeetNow_LobbyCreatorMeetingNameLabelV2Uppercase:
=
Strings
MeetNow_LobbyCreatorInviteTitleV2Uppercase:
=
Strings
MeetNow_ShareInviteMenuFacebook:
=
Strings
MeetNow_JoinLobbyTitleNoCall:
=
Strings
MeetNow_MeetingNameInputPlaceholder:
=
Strings
CallControls_RemovedFromCallAccessibilityLabel:
= You have been removed from the call by another participant.
Strings
MeetNow_LobbyCreatorInviteTitleV1:
= Invite others
Strings
MeetNow_LobbyCreatorInviteViaEmailTitleV1:
= Via email
Strings
MeetNow_LobbyCreatorInviteViaSocialTitleV1:
= Via social media
Strings
MeetNow_LobbyCreatorGoToMeetingTitleV1:
= Go to meeting
Strings
MeetNow_LobbyCreatorMeetingNameLabelV2:
= What is this meeting about?
Strings
MeetNow_LobbyCreatorInviteTitleV2:
= Invite others to join
Of course, we could miss something, but we are happy for any help in drawing up the complete list of changes, so if you know any details about this version, or have noticed a mistake leave a comment and we will complement or correct the information.