Skype

7.14.0.104

for Windows

Was released a new version of the popular application

Skype for Windows

, which although it does not contain significant changes, according to my observation should bring joy to many users. The thing is that in this version has been fixed bug due to which it was shown the wrong date when interlocutor was the last time online (in other words, "last seen" feature).

Also, in Skype 7.14.0.104 for Windows has been redesigned a bit Translator Skype UI, for which was added a more intuitive switch to enable or disable translator. The last change that was found for this version is the ability to delete sent media files and Mojis.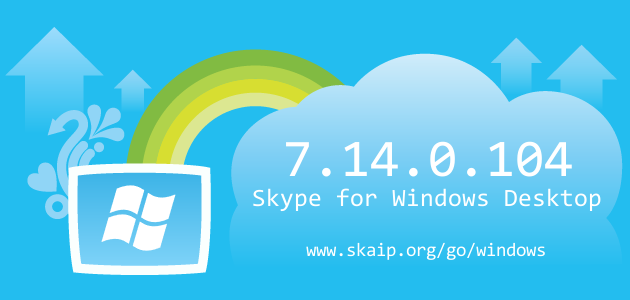 File size:
45.8 MB
Operating system:
Windows
Skype version:
7.14.0.104
Release date:
Total downloads:
738
Changelog
The following table contains the list of known changes in version Skype 7.14.0.104 for Windows. This will help you to find out what's new in Skype for Windows, which errors have been fixed, what work did developers, and a lot of other interesting things.
Tuned
'Translator' and 'Translator Settings' merged with clear option to switch on/off
Fixed
Fixed the bug of 'last seen' feature
New
Delete sent media files and Mojis
Strings
sZAPBUTTON_TOGGLEON:
=
Strings
sZAPBUTTON_TOGGLEOFF:
=
Strings
sINSERTSMILEY:
= Insert emoticon
=
Strings
sTOGGLE_ON:
=
Strings
sTOGGLE_OFF:
=
Strings
sCLOUD_FILETRANSFER_UPLOAD_FAILED_TOOBIG:
=
Strings
sCLOUD_FILETRANSFER_UPLOAD_MULTI_FAILED_TOOBIG:
=
Strings
sCLOUD_FILETRANSFER_UPLOAD_FAILED_VIRUS:
=
Strings
sCLOUD_FILETRANSFER_UPLOAD_FAILED_NO_INTERNET:
=
Strings
sCLOUD_FILETRANSFER_UPLOAD_WAITING:
=
Strings
sCLOUD_FILETRANSFER_UPLOAD_FAILED:
=
Strings
sCLOUD_FILETRANSFER_DOWNLOAD_FAILED_EXPIRED:
=
Strings
sCLOUD_FILETRANSFER_DOWNLOAD_FAILED_RESTART:
=
Strings
sCLOUD_FILETRANSFER_DOWNLOAD_FAILED_CANCELLED:
=
Strings
sCLOUD_FILETRANSFER_DOWNLOAD_FAILED:
=
Strings
sCLOUD_FILETRANSFER_FAILED:
=
Strings
sCLOUD_FILETRANSFER_CANCEL:
=
Strings
sCLOUD_FILETRANSFER_RETRY:
=
Strings
sCLOUD_FILETRANSFER_LEGACY:
=
Of course, we could miss something, but we are happy for any help in drawing up the complete list of changes, so if you know any details about this version, or have noticed a mistake leave a comment and we will complement or correct the information.