Skype

7.40.0.103

for Windows

18 comments

14 097 downloads

At a time when insiders are testing the eighth version of

Skype for Windows

, a new version of the seventh branch has been released. Although nothing is known about this release, judging by some lines, the developers are preparing to switch to the eighth version. It is important to note that Skype 7.40.0.103 for Windows is designed only for Windows 7, Windows 8.1 and Windows 10.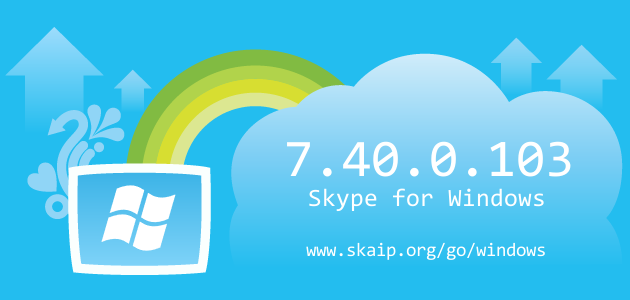 File size:
56.2 MB
Operating system:
Windows 7/8/10
Skype version:
7.40.0.103
Release date:
Total downloads:
14 097
Changelog
The following table contains the list of known changes in version Skype 7.40.0.103 for Windows. This will help you to find out what's new in Skype for Windows, which errors have been fixed, what work did developers, and a lot of other interesting things.
Files
/RtmMediaManager.dll [-0.01KB]
Files
/RtmPal.dll [+3.5KB]
Files
/RtmPltfm.dll [-10.49KB]
Files
/Skype.exe [+15.99KB]
Files
/SkypeResources.dll [+96.49KB]
Files
/SkypeSkylib.dll [+11KB]
Files
/VideoN.dll [+0.01KB]
Files
/skypert.dll [+1.51KB]
Strings
sCOEX_PROMO_HEADER_4:
= Hi! Did you know there's a new Skype?
=
Strings
sCOEX_PROMO_PARA_1_4:
= We see that you're using an older version of Skype. A newer version of Skype comes installed with Windows 10 and is already on your PC. It has all the features you know and love, in addition to new features such as chat reactions, highlights and the ability send and receive SMS and MMS messages from an Android or Windows Mobile device.
=
Strings
sZAPBUTTON_COEXPROMOYES_4:
= Launch new Skype
=
Strings
sCOEX_PROMO_IMG_FOOTER_1:
=
Strings
sCOEX_PROMO_IMG_FOOTER_2:
=
Strings
sCOEX_PROMO_IMG_FOOTER_3:
=
Strings
sCOEX_PROMO_PARA_1_5:
=
Of course, we could miss something, but we are happy for any help in drawing up the complete list of changes, so if you know any details about this version, or have noticed a mistake leave a comment and we will complement or correct the information.