Skype

7.26.0.101

for Windows

20 comments

9 863 downloads

Has been released a new version of

Skype for Windows

, which adds new option to hide or show username on Windows taskbar or in the top left hand corner of Skype. This option ca be found in

Tools → Option → Advanced → Advanced settings

.

Another change in the Skype 7.26.0.101 for Windows applies to video calls, during to which the video and black "call stage" background "stretches" to the entire width of the window.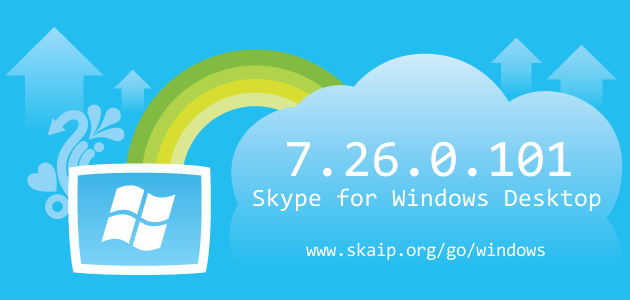 File size:
40.1 MB
Operating system:
Windows
Skype version:
7.26.0.101
Release date:
Total downloads:
9 863
Changelog
The following table contains the list of known changes in version Skype 7.26.0.101 for Windows. This will help you to find out what's new in Skype for Windows, which errors have been fixed, what work did developers, and a lot of other interesting things.
Tuned
Hide or show username on Windows taskbar
Changed
Video fills the whole screen
Unresolved
Sound playback error for some events (This sound file is in a format that is not supported by Skype)
Strings
sZAPBUTTON_SWITCHCAMERAS:
=
Strings
sPROFILE_INFORMATION_TEXT:
=
Strings
sOPTIONS_SHOW_ACCOUNT_NAME_IN_TITLE:
=
Strings
sSWIFT_CARD_OPENURL_ACC_NAME:
=
Strings
sSWIFT_CARD_IMBACK_ACC_NAME:
=
Strings
sSWIFT_CARD_CALL_ACC_NAME:
=
Strings
sSWIFT_CARD_ENLARGE_IMAGE_ACC_NAME:
=
Strings
sSWIFT_CARD_CLICK_ACTION_ACC_PREFIX:
=
Strings
sLOGIN_ERROR_CERTIFICATE:
=
Strings
sSNAPSHOT_SAVE_ERROR_DISK_FULL:
=
Strings
sAUDIO_SHARING_LOADING:
=
Strings
sAUDIO_SHARING_CONTENT_REMOVED:
=
Strings
sAUDIO_SHARING_CONTENT_EXPIRED:
=
Strings
sUPGRADE_FORCED_CAPTION:
=
Strings
sUPGRADE_FORCED_TEXT1:
=
Strings
sUPGRADE_FORCED_TEXT2:
=
Strings
sUPGRADE_FORCED_TEXT3:
=
Strings
sUPGRADE_FORCED_LINK:
=
Strings
sUPGRADE_FORCED_BUTTON_UPDATE_NOW:
=
Strings
sUPGRADE_FORCED_BUTTON_QUIT:
=
Strings
sUPGRADE_READY_CAPTION:
=
Strings
sUPGRADE_FORCED_READY_TEXT:
=
Strings
sUPGRADE_READY_BUTTON_INSTALL_NOW:
=
Strings
sCALL_TOOLBAR_DURATION:
=
Strings
sUPGRADE_DISCONTINUED_TEXT1:
=
Strings
sUPGRADE_DISCONTINUED_TEXT2:
=
Strings
sUPGRADE_DISCONTINUED_TEXT3:
=
Strings
sUPGRADE_DISCONTINUED_TEXT4:
=
Strings
sUPGRADE_DISCONTINUED_TEXT5:
=
Strings
sUPGRADE_DISCONTINUED_BUTTON_LATER:
=
Strings
sDEVICES_MISMATCHED_HEADSET:
=
Strings
sZAPBUTTON_HEARTMARKFULL:
= Unlike
Strings
sZAPBUTTON_HEARTMARKHALF:
= Like
Strings
sZAPBUTTON_HEARTMARKEMPTY:
= Like
Of course, we could miss something, but we are happy for any help in drawing up the complete list of changes, so if you know any details about this version, or have noticed a mistake leave a comment and we will complement or correct the information.