Skype

7.28.0.101

for Windows

10 comments

7 329 downloads

A new version of

Skype for Windows

has been released in phased rollout mode (it means that only some users will able to

download

it). In this version has been removed the shadow from the bottom of the in-call UI which always overlap the preview window (see screenshots below):

Version 7.27.0.101:

Version 7.28.0.101:

Another fix in this version is the bug due to which in certain group conversations any sent URLs were always shortened to 10 Latin or Cyrillic characters. Also in Skype 7.28.0.101 for Windows has been removed the option «Voice Message» from the «Conversation → Send» menu. From now the only way to leave voice messages is if a called contact is busy or reaches timeout defined by him with the «I do not answer within [x] seconds» option.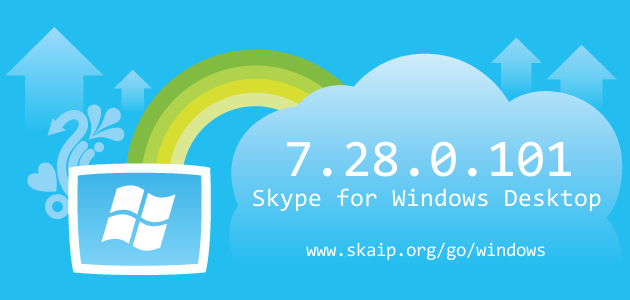 File size:
39.8 MB
Operating system:
Windows
Skype version:
7.28.0.101
Release date:
Total downloads:
7 329
Changelog
The following table contains the list of known changes in version Skype 7.28.0.101 for Windows. This will help you to find out what's new in Skype for Windows, which errors have been fixed, what work did developers, and a lot of other interesting things.
Fixed
Removed the overlapping shadow
Fixed
Fixed the faulty URL shortening
Tuned
Removed option «Send Voice Message»
Strings
sCALL_LB2_SKYPEOUT_BLOCKED:
= Account blocked
=
Strings
sSWIFT_CARD_UNSUPPORTED_ACC_NAME:
=
Strings
sURL_IMAGE_ACC_NAME:
=
Strings
sF_TRUSTED_AGENT:
= Skype Certified
=
Strings
sDEVICES_MISMATCHED_BODY:
= Your microphone is set to <b>%0:s</b> while your speaker is set to <b>%1:s</b>. Would you like your microphone and speaker to both be set to <b>%2:s</b>.
=
Strings
sSPONSORED_DROP_MSG:
=
Strings
sLEAVE_CALL_CAPTION:
=
Strings
sARE_YOU_SURE:
=
Strings
sLEAVE_CALL:
=
Strings
sF_OPTIONS_SOUNDS_STARTING:
=
Strings
sF_SOUNDS_DEFAULT_SOUND_TEXT29:
=
Strings
sMAINMENU_LOGGING_ON:
=
Strings
sMAINMENU_LOGGING_OFF:
=
Strings
sCOM_RESTART_MESSAGE_LOGGING_ON:
=
Strings
sCOM_RESTART_MESSAGE_LOGGING_OFF:
=
Strings
sLIST_SEPARATOR:
=
Strings
sSC_INFO_DELETE:
=
Of course, we could miss something, but we are happy for any help in drawing up the complete list of changes, so if you know any details about this version, or have noticed a mistake leave a comment and we will complement or correct the information.