Skype

7.34.0.102

for Windows

7 comments

3 230 downloads

New version of

Skype for Windows

has been released, but nothing is known, what has changed in this release. The only interesting thing that I noticed, is that in Skype 7.34.0.102 for Windows add new string "Export Chat History". However, I could not find any similar functions in the Skype settings. Maybe I was looking bad?

ps. By the way: also there were two new

emoticons

:

Hot chocolate

and

Cupcake

.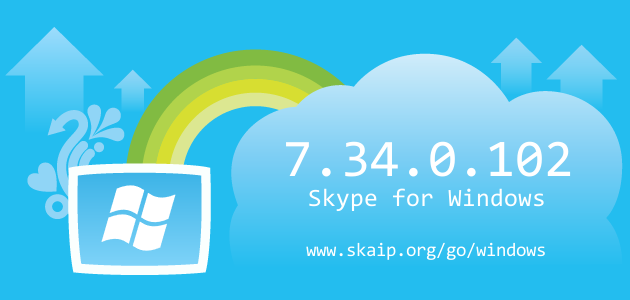 File size:
55.1 MB
Operating system:
Windows 7/8/10
Skype version:
7.34.0.102
Release date:
Total downloads:
2 585
File size:
54.5 MB
Operating system:
Windows XP/Vista
Skype version:
7.34.0.102
Release date:
Total downloads:
645
Changelog
The following table contains the list of known changes in version Skype 7.34.0.102 for Windows. This will help you to find out what's new in Skype for Windows, which errors have been fixed, what work did developers, and a lot of other interesting things.
Strings
sZAPBUTTON_LOGINNEXT:
=
Strings
sBOT_PROFILE_PRIVACY_NEW2:
= This bot will have access to your display name, messages, voice calls and any other content that you or other participants share with the bot.
=
Strings
sBOT_CAPABILITY_SHARE_SCREEN:
= share screens
=
Strings
sSHOME_EMPTY_TITLE:
=
Strings
sSHOME_EMPTY_DESC:
=
Strings
sSHOME_EMPTY_SUBDESC:
=
Strings
sLOGIN_PROMPT:
=
Strings
sLOGIN_PROMPT_LINE1:
=
Strings
sLOGIN_PROMPT_LINE2:
=
Strings
sLOGIN_ENTRY_PLACEHOLDER:
=
Strings
sLOGIN_CREATE_ACCOUNT:
=
Strings
sLOGIN_FACEBOOK:
=
Strings
sLOGIN_PROBLEMS:
=
Strings
sLOGIN_FACEBOOK_LINKING_TOU_PROMPT_HEADER:
=
Strings
sLOGIN_FACEBOOK_LINKING_TOU_PROMPT:
=
Strings
sLOGIN_ERROR_GENERIC:
=
Strings
sLOGIN_ERROR_CANNOT_CONNECT:
=
Strings
sLOGIN_ERROR_DB_IN_USE:
=
Strings
sLOGIN_ERROR_UNRECOGNIZED_CREDETIALS:
=
Strings
sLOGIN_ERROR_TOO_MANY_ATTEMPTS:
=
Strings
sLOGIN_ERROR_SIGNIN_AGAIN:
=
Strings
sLOGIN_ERROR_UIC_FAILED:
=
Strings
sLOGIN_ERROR_DISK_FULL:
=
Strings
sLOGIN_ERROR_DB_IO:
=
Strings
sLOGIN_ERROR_DB_GENERIC:
=
Strings
sLOGIN_ERROR_APP_ID:
=
Strings
sLOGIN_ERROR_UNSUPPORTED_VERSION:
=
Strings
sLOGIN_ERROR_ACCOUNT_BLOCKED:
=
Strings
sLOGIN_ERROR_REMOTE_LOGOUT:
=
Strings
sLOGIN_ERROR_DB_CANNOT_OPEN:
=
Strings
sLOGIN_ERROR_DB_ACCESS_DENIED:
=
Strings
sZAPBUTTON_COEXPROMOYES_3:
=
Strings
sZAPBUTTON_COEXPROMONO_3:
=
Strings
sCOEX_PROMO_HEADER_3:
=
Strings
sCOEX_PROMO_PARA_1_3:
=
Strings
sCOEX_PROMO_PARA_2_3:
=
Strings
sUWP_PROMO_CAPTION:
=
Strings
sUWP_PROMO_TEXT1:
=
Strings
sUWP_PROMO_TEXT2:
=
Strings
sUWP_BTN_CLASSIC:
=
Strings
sUWP_BTN_PROMO:
=
Strings
sADD_CONTACTS_ADD_PSTN:
=
Strings
sF_OPTIONS_CHAT_EXPORT_HISTORY_LABEL:
=
Strings
sF_OPTIONS_CHAT_EXPORT_HISTORY_BUTTON:
=
Strings
sF_OPTIONS_CHAT_EXPORT_HISTORY_FILE_DIALOG_TITLE:
=
Strings
sF_OPTIONS_CHAT_EXPORT_HISTORY_FILE_DIALOG_FILTER_CSV:
=
Strings
sF_OPTIONS_CHAT_EXPORT_HISTORY_FILE_DIALOG_FILTER_ALL:
=
Strings
sEXPORT_HISTORY_FORM_CAPTION:
=
Strings
sEXPORT_HISTORY_FORM_HEADER:
=
Strings
sEXPORT_HISTORY_FORM_PROGRESS:
=
Strings
sEXPORT_HISTORY_FORM_SUCCESS:
=
Strings
sEXPORT_HISTORY_FORM_ERROR:
=
Of course, we could miss something, but we are happy for any help in drawing up the complete list of changes, so if you know any details about this version, or have noticed a mistake leave a comment and we will complement or correct the information.