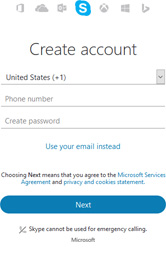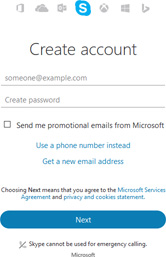 In fact, users have long been invited to register on Skype using a Microsoft account, but at the same time the old registration form continued existing. However, now, when you visit the registration page of Skype account, a redirection to the registration page of Microsoft account takes place.
Well, if now you have to use only Microsoft account, let's try to compile a list of the advantages and disadvantages of this innovation:
Advantages
Disadvantages
Two-factor authentication
The Microsoft account supports two-factor authentication, and therefore attackers practically won't be able to hack the account.
Anonymity
If before it was possible to register an account without confirming any data, now you have to specify only valid data without fail.
Protection against "clones"
Now, attackers won't be able to create "clones", simply registering accounts with the similar username, and to pass as another person.
Multiple accounts
With a single email address, you can create only one account, while before you could register multiple accounts with one email.
Easy access recovery
Since when registering the accuracy of the data is verified, in case of password loss it will be easier to restore access to your account.
Easy registration and authorization
Before we did not have to wait for a letter with a four-digit code for confirming the data, and for authorization we entered a short username and password.
Most probably, the list can be supplemented, and I may have missed something, but I hope the readers will help me. Besides, I'm very interested in knowing what you think about this innovation. What would you prefer: the old method (a Skype account registration) or the new one (a Microsoft account registration)?
By the way, since the old form of registration was abolished, on the Internet I have seen various questions, associated with it. The answers can be found below:
How to create a Skype username?
You cannot manually specify your username anymore, as it is automatically generated during the registration (nevertheless, see the following answer about how a new username is generated). Please read
here
how to find out your username.
Found a solution: How to register a Skype account by specifying your own username.
How a new Skype username is generated?
If the option "Registration to Skype with your phone number" has been selected, the username will became the hash of the phone number and will have the following form and length: live:1234567890abcdef. By the way, very good that uses hashing as it do not disclose phone number.

Otherwise, if you select "Registration to Skype with your email" the username will be the same as the email user (which is located before the "@" sign). For example, if email "bob@skaip.org" is specified during registration the username will be "live:bob". However, if a username already exists in the system, to the username is appended the "_X", where X is the counter number. That is, if you register a new one account with the email "bob@skaip.su" the login will be "live:bob_1".
How to log in to Skype without a username?
In the field "Username", depending on the selected method, type the e-mail address or phone number, specified when registering.
How to find me in Skype?
If when registering you have specified your e-mail address or phone number, communicate it to the other party — he must copy it into the search bar and press
Enter
.
Plese note, that if you have entered your phone number when registering, users who use old versions of
classic Skype
won't be able to find you using this number, because instead of looking for the specified number, Skype will say: "+71234567890 not included in your list of contacts. Save the phone number or call the number". Therefore, as a temporary solution, you'll have to provide your username, which begins with "live:".