Before you proceed, make sure that you have the new Skype's installer or
download it here
. In my examples I use version
8.19.0.1
(the latest version at the moment).
Compatibility Mode
A very simple and quite common way is to run the installer in compatibility mode for another OS. Thanks to this little trick, we are "deceiving" the installer, as if we have another operating system:
Right-click on the Skype installer
Select "Properties"
Go to the "Compatibility" tab
Check the option "Run the program in compatibility mode"
Select the option "Windows 8" and click "OK"
Start the Skype installer and follow the installation instructions.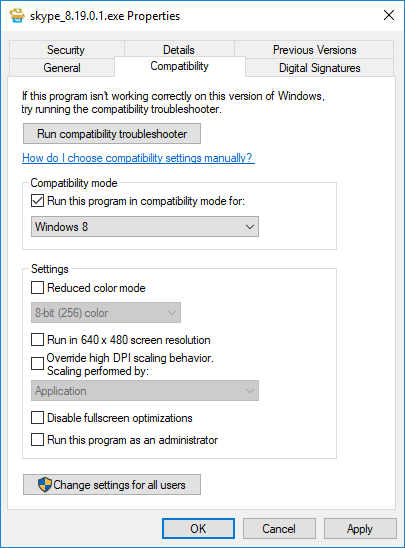 Silent Installation
The installer of the new Skype is created using Inno Setup, which means that it supports various command line parameters. One of them is the
/silent
argument, which, in our case, among other things allows to bypass the operating system version check. Thus, to install the new Skype on Windows 10, you need to run the command
\path\to\installer\skype_8.19.0.1.exe /silent
using the command line, shortcut, or the following method:
Press the key combination Win+R
Use the mouse to drag the installer on "Run" window that appears.
In the "Open" field, at the end, add /silent (before "/" the space is required).
Click "OK" and wait until the installation is complete.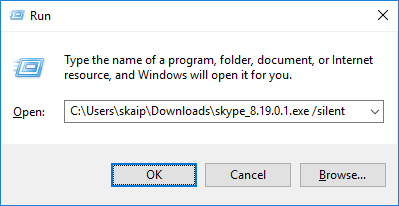 Portable version
I'm a fan of portable apps, and if you share my love for them, instead of installing Skype, I recommend you to
create a portable version
. This method does not install the new Skype on Windows 10, but extracts installer files bypassing the OS version check. Of course, after that we can use the new Skype without any restrictions (besides, as a bonus you will get the opportunity to
run several Skype accounts
).
I ask to tell in the comments what method helped you, and why you chose it. Also, I will be grateful for any additional tips.