If you click the "View Certificate" button, you can find out, whom the certificate has been issued to, who has issued it, and when it expires. In the case of advertising banners in Skype, the field "Issued to" contains such domains as: akamai.net, btrll.com, twc.com or others.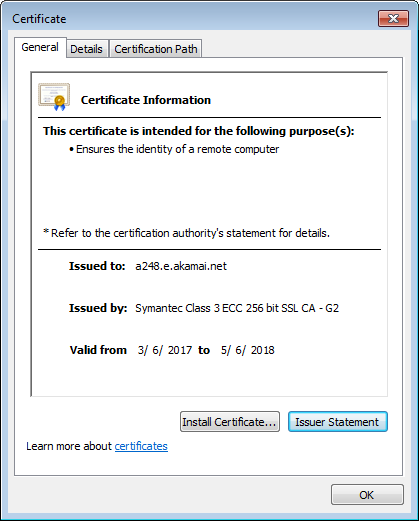 As a rule, these security alerts occur in two cases:
Site administrators has made an error when configuring the security certificate (more precisely, the certificate, intended for another domain, is used).


Scammers want to intercept your data and try to impersonate someone else or have replaced the site's security certificate.
Is my data at risk?
As far as I know, in Skype, most often such warnings appear when displaying advertising banners from services that have made mistakes when setting up a security certificate. That is, you should not worry, because these security alerts do not mean that your computer is infected with a virus or that someone is trying to intercept your data.

Nevertheless, the security threat cannot be ruled out. Therefore, in the warning box, you should continue (that is, click the "Yes" button) only if you are sure that this is only an inoffensive error. In other cases, click "No".
How can I disable these alerts?
Apparently, the Windows operating system does not have flexible settings for these security alerts, and the only method, known to me, disables them for all domains and all applications that use Internet Explorer components. Therefore, please, turn them off only if you realize the risk of these actions.
So, to disable the security alert:
Start Internet Explorer (C:\Program Files\Internet Explorer\iexplore.exe).
Open the "Tools" menu (in newer versions of IE, the gear icon).
Select "Internet Options".
Click the "Advanced" tab and find the "Security" section.
Uncheck the option "Warn about certificate address mismatch".
Click the "OK" button.
Leave Internet Explorer (in fact, it is recommended to restart the computer).