Skype

7.24.0.104

for Windows

14 comments

7 450 downloads

Has been updated Skype for Windows in which conducted works on optimization sound adjustments, improving accessibility mode and displaying the user interface when bidirectional languages are used. It should be noted that Skype 7.24.0.104 for Windows is not a recommended version yet and thus, users with earlier versions will not a receive the update notification. But if you want to install this version, you need to download the

installer

and install the application manually.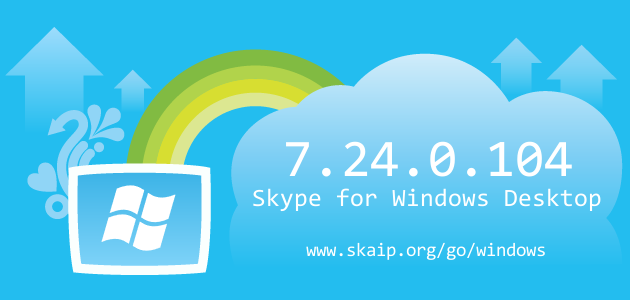 File size:
39.8 MB
Operating system:
Windows
Skype version:
7.24.0.104
Release date:
Total downloads:
7 450
Changelog
The following table contains the list of known changes in version Skype 7.24.0.104 for Windows. This will help you to find out what's new in Skype for Windows, which errors have been fixed, what work did developers, and a lot of other interesting things.
Improved
Improved accessibility mode
Tuned
Volume controls in Skype adjust application volume in Windows sound mixer
Fixed
Fixed problems with microphone gain
Improved
Optimized support for bidirectional languages
Strings
sCLOUD_IMAGE_DOWNLOAD_FAILED:
=
Strings
sCLOUD_IMAGE_DOWNLOAD_FAILED_EXPIRED:
=
Strings
sCLOUD_IMAGE_UPLOAD_FAILED:
=
Of course, we could miss something, but we are happy for any help in drawing up the complete list of changes, so if you know any details about this version, or have noticed a mistake leave a comment and we will complement or correct the information.