Skype

7.36.0.101

for Windows

11 comments

8 263 downloads

Went live another version of

Skype for Windows

(by the way, the third one this month). The only thing that I was able to notice in Skype 7.36.0.101 for Windows is new design of some interface elements and pop-ups (for example, to see the new changes, open the language editor:

Skype → Tools → Change Language → Edit Language File

).

It is important to note that this version is intended only for Windows 7, Windows 8 and Windows 10. Apparently the analogue version of 7.36.0.101 for Windows XP and Windows Vista is version

7.36.0.150

.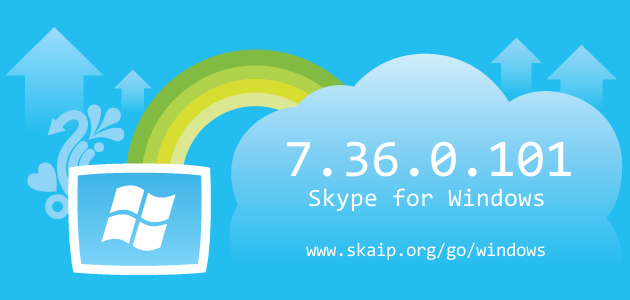 File size:
55.4 MB
Operating system:
Windows 7/8/10
Skype version:
7.36.0.101
Release date:
Total downloads:
8 263
Changelog
The following table contains the list of known changes in version Skype 7.36.0.101 for Windows. This will help you to find out what's new in Skype for Windows, which errors have been fixed, what work did developers, and a lot of other interesting things.
New
New design of some interface elements and pop-ups
Files
/RtmCodecs.dll [+11.5KB]
Files
/RtmMediaManager.dll [-15KB]
Files
/RtmPal.dll [+10.5KB]
Files
/RtmPltfm.dll [+37KB]
Files
/Skype.exe [-75.51KB]
Files
/SkypeResources.dll [+491.5KB]
Files
/SkypeSkylib.dll [-1006KB]
Files
/skypert.dll [+12.5KB]
Files
/ssScreenVVS2.dll [+0.5KB]
Strings
sZAPBUTTON_YES:
=
Strings
sZAPBUTTON_SWIFTCARD:
=
Strings
sZAPBUTTON_OPENURL:
=
Strings
sZAPBUTTON_SHOWALL:
=
Strings
sZAPBUTTON_SHOWLESS:
=
Strings
sSWIFT_CARD_UNSUPPORTED:
= Eek! We can't show this card on the version of Skype you have.
=
Strings
sSWIFT_CARD_UNSUPPORTED_BUTTON:
= Next
=
Strings
sBOT_PROFILE_PRIVACY_NEW2:
= This bot will have access to your display name, country and language and any messages, voice and video calls and any other content that you or other participants share with the bot.
=
Strings
sSHOME_EMPTY_SUBDESC:
= In the meantime, <a href='%0:s'>search Skype for people you know</a> or <a href='%1:s'>make a call</a>.'
=
Of course, we could miss something, but we are happy for any help in drawing up the complete list of changes, so if you know any details about this version, or have noticed a mistake leave a comment and we will complement or correct the information.