When you try to start Skype 7, the following message appears: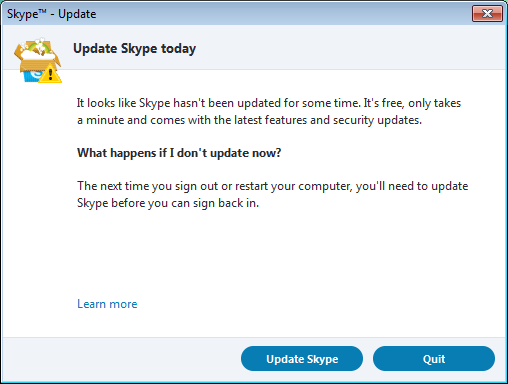 Update Skype today
It looks like Skype hasn't been updated for some time. Ifs free, only takes a minute and comes with the latest features and security Updates.

What happens if I don't update now?
The next time you sign out or restart your Computer, you'll need to update Skype before you can sign back in.
Although the message gives hope that you can run this version without updating, in fact it is not - you need to either update the program or close it. Given this, it is safe to say that happened that was to happen
in September
.
How to use classic Skype now?
If you are a fan of classic Skype, you can install
Skype 7.41.32.101
. This version still allows you to log in without any problems. True, this is most likely a temporary solution and sooner or later this trick will no longer work.