Skype

7.37.0.103

for Windows

20 comments

5 245 downloads

Went live a new version of

Skype for Windows

and apparently the update is intended only for Windows 7 and newer, as for Windows XP and Vista you can download only old version

7.36.0.150

. With regard to changes in Skype 7.37.0.103 for Windows, unfortunately, nothing is known yet.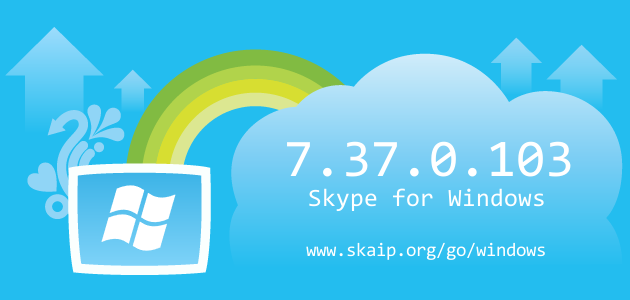 File size:
56.0 MB
Operating system:
Windows 7/8/10
Skype version:
7.37.0.103
Release date:
Total downloads:
5 245
Changelog
The following table contains the list of known changes in version Skype 7.37.0.103 for Windows. This will help you to find out what's new in Skype for Windows, which errors have been fixed, what work did developers, and a lot of other interesting things.
Fixed
Fixed the CVE-2017-9948 vulnerability
Files
/RtmCodecs.dll [-36.46KB]
Files
/RtmMediaManager.dll [+164.54KB]
Files
/RtmPal.dll [+82.54KB]
Files
/RtmPltfm.dll [+594.54KB]
Files
/Skype.exe [+25KB]
Files
/SkypeResources.dll [+698.51KB]
Files
/SkypeSkylib.dll [+93.04KB]
Files
/VideoN.dll [-8.96KB]
Files
/skypert.dll [-22.46KB]
Files
/ssScreenVVS2.dll [-41.46KB]
Strings
sZAPBUTTON_CLOSEDARK:
=
Strings
sZAPBUTTON_CLOSELIGHT:
=
Strings
sCHAT_THEME_LIGHT:
=
Strings
sCHAT_THEME_LIGHT_ALT:
=
Strings
sCHAT_THEME_DARK_ALT:
= Dark Alt
=
Strings
sGETTING_STARTED_SET_THEME_LABEL:
=
Strings
sGETTING_STARTED_SET_THEME_CONTENT:
=
Strings
sZAPBUTTON_CLOSEWHITE:
= Close
Strings
sCHAT_THEME_CLASSIC:
= Classic
Strings
sCHAT_THEME_CLASSIC_ALT:
= Classic Alt
Of course, we could miss something, but we are happy for any help in drawing up the complete list of changes, so if you know any details about this version, or have noticed a mistake leave a comment and we will complement or correct the information.